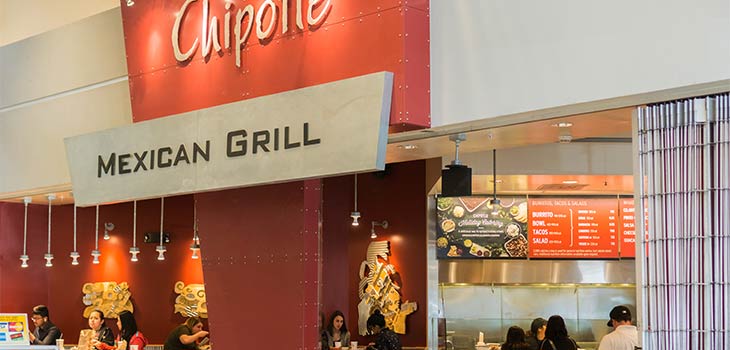 Sometimes there isn't time in the day to cook a meal, never mind a healthy one. With busy schedules, it's often easier to cruise through the drive-thru or pick up take-out on the way home from work. The problem is this can hurt both your wallet and your waistline. Fast food or pre-made meals are not known for their health benefits, and eating out like this every night will surely impact your budget, too. However, if you're savvy, there's a way to eat out cheaply and healthy every night of the week without calorie overload. It's possible to find fast food that's both healthy and affordable. Read on to discover 11 cheap restaurants offering healthy and affordable deals.
1) Chipotle's Chicken Salad
Sometimes ordering a salad can be risky. It can be filled with lots of different vegetables and protein options, or it can be a disappointing lettuce and tomato soaked in oily dressing. At Chipotle, you don't have to worry about that. Chipotle has multiple salad options that range between $6.50-$8.00. This price is definitely easy on the wallet, but it's also a great healthy meal, too. The Chicken Salad is especially weight-watcher friendly with protein rich pinto beans, grilled chicken, and fajita veggies. Each salad has just 355 calories and 8.6 grams of fat. While it may be hard to resist the other less healthy options at this popular Mexican restaurant, don't worry. You don't miss out on much by going with the salad since it's packed with such tasty flavor varieties. Bonus: Chipotle has announced they've removed all GMO ingredients from their menu. Way to go, Chipotle!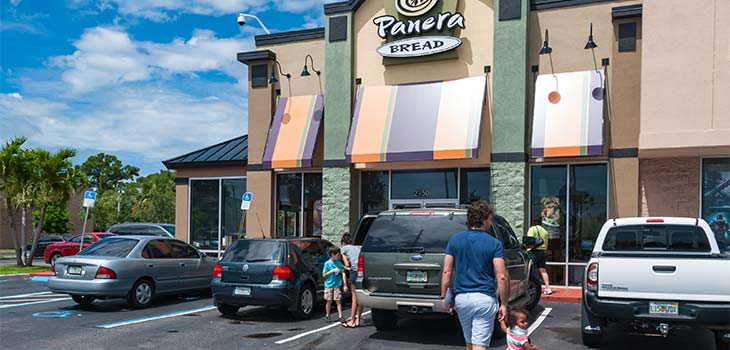 2) Panera's "You Pick Two" Deal
Famous for its fresh bread, sandwiches, and salads, it can be easy to go over your money and calorie budget at Panera. Especially if you can't decide between the sandwich and the salad and settle for both. However, Panera has a great "You Pick Two" deal that helps with both these issues. It allows you to pick from a half sandwich and half a salad or soup. Eating only half a sandwich (instead of the whole thing) definitely helps cut down on calories. One of the healthiest choices – the Half Turkey & Avocado BLT – has under 400 calories and 18 grams of protein! Pair with a half salad with low-fat dressing or a home-made soup. Panera has low-fat soup options including Vegetarian Black Bean and Garden Vegetable. The You Pick Two deal allows for a healthy lunch of your own creation for under $12.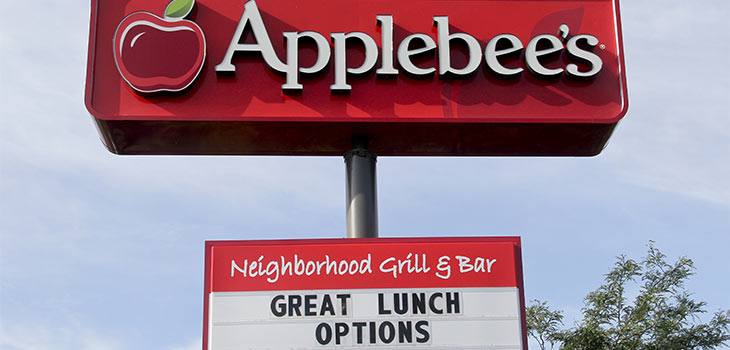 3) Applebee's 2 for $20 Lunch Special
This restaurant has committed to advertising the calories of all their items right on their menu! This makes it super easy for those who are counting calories to eat out and not go over their daily calorie intake. A complete breakdown of all the nutritional facts of their menu items is even available online. So, if you know you're eating out at Applebee's, access the detailed nutritional guideline and know exactly how much fat, sodium, sugar, carbs, etc. is in the food you order. Applebee's also has very reasonable prices. The 2 for $20 lunch deal allows customers to pick two entrees and one appetizer. Share the meal with a friend and that's just $10 each. Healthy options at Applebee's include the Thai Shrimp Salad (410 calories), the Cedar Grilled Lemon Chicken (600 calories), and the Salmon with Maple Mustard Glaze (350 calories). Each of these options are under $15.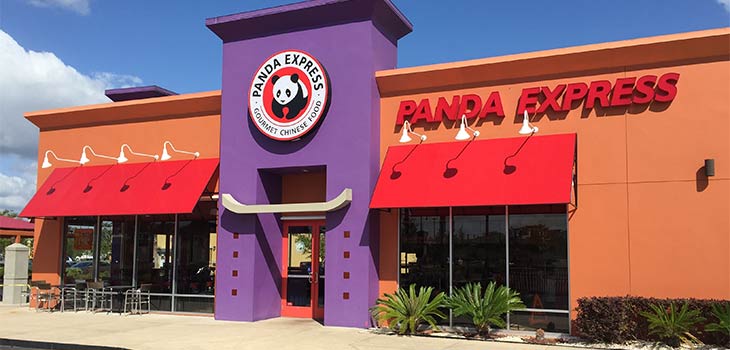 4) Panda Express "Wok Smart" Menu
Didn't think it was possible to enjoy savory Chinese food that's also healthy and cheap? Thanks to Panda Express, it is! This fast food Chinese joint has a Wok Smart section to their menu in which all dishes are 300 calories or less, use fresh veggies, and pack 8 grams of protein or more. Options aren't limited either. Pick from six different Wok Smart menu items: String Bean Chicken Breast, Kung Pao Chicken, Black Pepper Chicken, Mushroom Chicken, Grilled Teriyaki Chicken, and Broccoli Beef. A medium bowl is $6.90. The Panda Express website also has a downloadable nutrition guide for all their menu items so you know exactly what you're getting with every order. They even note if the dish is made with wheat, soy or has additional ingredients like egg or peanuts. Bonus: Panda Express' food is MSG-free and they refuse to work with food suppliers who use it.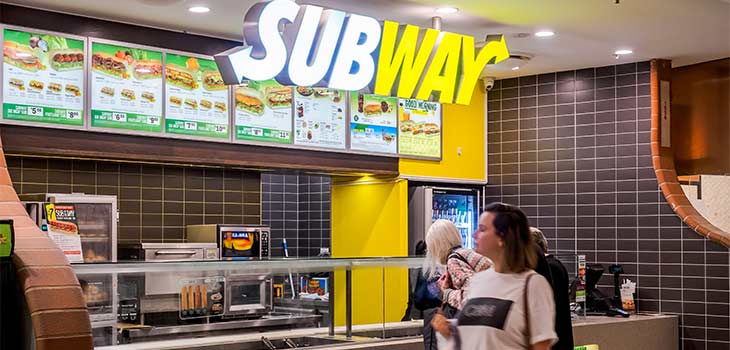 5) Subway 6-inch
Everyone knows Subway Jared and his successful weight-loss story. He's been the Subway spokesperson for years. However, Jared isn't just a fluffy advertising scheme. There's something to Subway's claim that eating their sandwiches can help you lose weight. They have also remained so reasonably priced that eating Subway everyday (like Jared) is actually financially sustainable. A 6-inch sandwich at Subway runs under $5. If you pick the right combination of ingredients it will also run you 350 calories or less. The Turkey Breast sub is the healthiest option with just 280 calories, 3.5 grams of fat, and 1 gram of saturated fat. The Subway Club, Oven-Roasted Chicken, and Roast Beef are all 350 calories or less with just 1.5 grams of saturated fat. Remember, all this is counter-acted if you ask for mayonnaise or another creamy sauce. Instead, go for one of the fat-free options; mustard, vinegar, or sweet onion.
6) Wendy's Sandwiches & Side Menu
This is one of the few fast food chains that you can eat at and feel good about it. The great thing about Wendy's is that you're not limited to just one healthy option on the menu. There are several ways to eat at Wendy's without overdoing it on the calories. This restaurant is also notoriously cheap, making it a great choice for road-trip food or when you need to grab a quick bite out. Try the Grilled Chicken Sandwich which has 370 calories and 10 grams of fat. It's also got a healthy 3 grams of fiber to help keep you feeling full. To round out the meal, add a small bowl of chili for just 170 calories, 5 grams of fat, and 4 more grams of fiber, plus a low-calorie side salad. Got a sweet tooth? Go ahead, a Junior Frosty is just 190 calories.