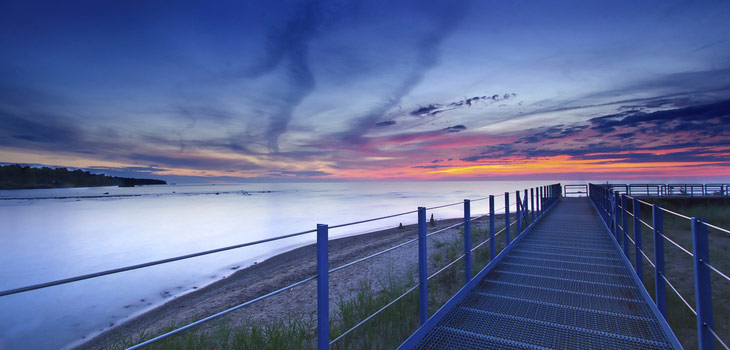 New York is a popular state to settle down. Living in the Empire State can, however, be rather costly and a difficult goal for some people to reach. Many people think of New York as "the big city". There are some areas of the state that are much more affordable. Upstate New York is often overlooked by outsiders as being part of New York at all. There are, in fact, many fascinating and beautiful places to live that are quite affordable. On that note, here are 11 of the cheapest places to live in New York.
1) Dunkirk
Dunkirk is a small city of over 12,000 residents along the shore of Lake Erie. Its cost of living index is an especially low 78, which is significantly lower than both New York overall and the nation's standard. The median value of a house or condo in Dunkirk is just over $66,000, and the median household income is over $40,000. The most common industry, by far, is manufacturing, and the most common jobs are those in the field of production. Considering that Dunkirk lies on the southern shore of one of the Great Lakes, there is a boardwalk with a market that is a popular destination, as well as a pier and a lighthouse. There are also restaurants and taverns where you can go to enjoy some food or drinks with family and friends.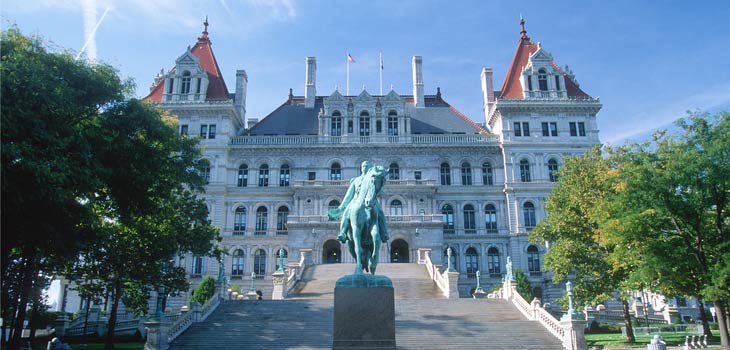 2) Albany
The capital of NY, Albany, is a relatively inexpensive living option for people who are looking for an urban environment. The cost of living index is slightly higher than the national average standard, but lower than the state average, at 106. Within that index, however, grocery expenses, housing, and utilities are all cheaper than the national average. The median house or condo value is $169,900. Public administration is the most common industry, and the most common jobs are in sales. Albany is an attractive city because there are so many activity options available to residents and visitors alike. For example, there are museums, planetariums, historic sites, sporting venues, and more. There are plenty of nightlife options for adults, and also parks and shows for children. Furthermore, there are often festivals and events happening somewhere in the city. So if you are looking for a place with all the amenities of a busy city but without a huge price tag, Albany may be for you.
3) Hornell
Hornell is a great place to settle down for cheap in New York State. The town, in the Finger Lakes region, has a cost of living index below even the national average of 100, at 91. The median house or condo value is under $66,000, though median household income is almost $38,500. In recent years, the crime rate in Hornell has been significantly lower than the national average. The average household size here is 2.4 people. Despite being a pretty small town, there are many attractions of living in Hornell. There is a museum filled with railroad relics, a state park where you can soak up the beauty of nature, places to try local craft beverages, and more. If you want to try some fresh food from the area, there are also several farms and markets to visit. Additionally, there is a community arts center and some antique centers where you can embrace history and culture.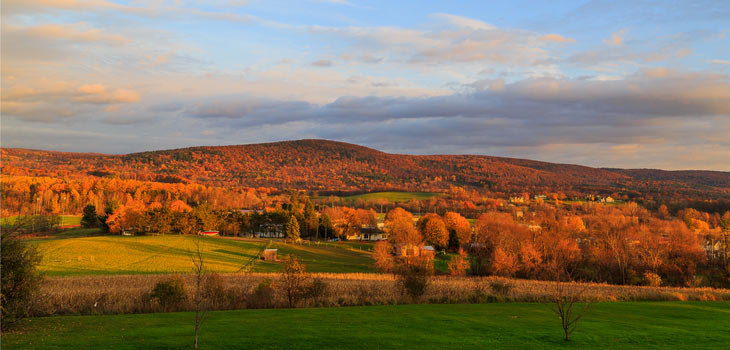 4) Troy
Troy is a small city not too far from the state's capital, Albany. It has a population of just under 50,000 residents with a median age of 29.8 years old. The cost of living index, compared against a national average standard of 100 and a NY state average of 122, is 102. Housing is relatively cheap here, with median home value falling under $147,000. The most common industries in Troy are educational services and retail trade, and the most common jobs are in office and administrative support positions. Troy has several attractions for residents. Not only is it the home of Rensselaer Polytechnic Institute, but there is also a great farmers' market, a sports stadium, museums, and more. There are also several hospitals and nursing homes in the city, allowing for access to health care and senior support.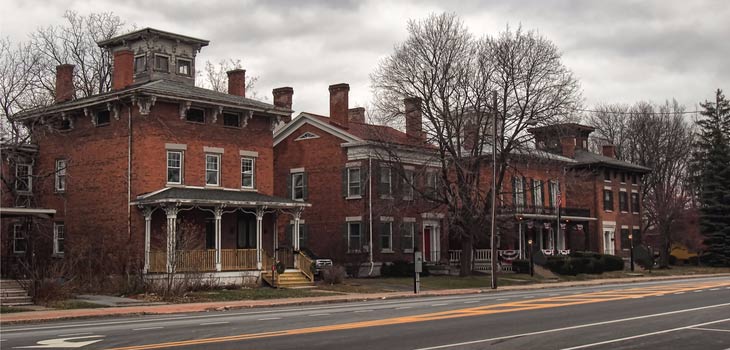 5) Waterloo
Located in the Finger Lakes region of upstate New York lies Waterloo, a low-cost village of over 5,000 residents. The cost of living index here is an affordable 88, 12 points under the United States' average. The median house or condo value is under $86,000, which is much lower than the state's overall median of $293,500. The median household income, while also lower than average, is still a comfortable $47,144. Despite being a relatively small place, Waterloo is home to a mall of outlet stores where you can get a lot of shopping done. If you would like to spend some time on the water, Fuzzy Guppies canoe rental can help you experience some of the area's natural beauty closer up. Additionally, you can dip into the history of the region by visiting the historic Peter Whitmer Log Home or the American Civil War Memorial. Other available activities include going to the local golf course or checking out the bars and shops in town.