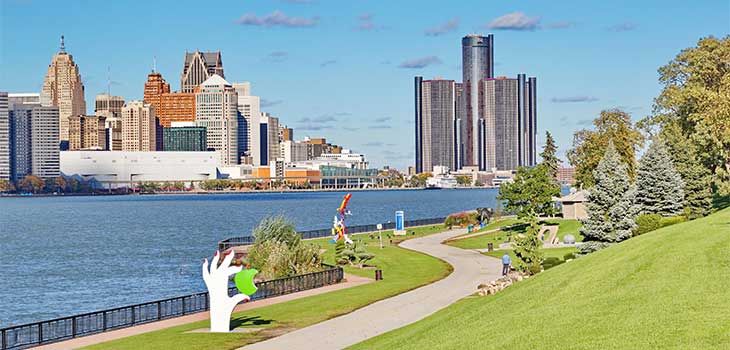 The province of Ontario is home to over 13 million people. It's famous for its many lakes—there are over 250,000 lakes in Ontario, and these lakes have one-fifth of the world's water supply. Ontario has numerous farms and rural areas as well. It's also home to the largest city in Canada with Toronto and the capital of the country with Ottawa. Ontario truly has something for everyone, for those who prefer rural towns to those who like the action of big cities. Some places in Ontario are more affordable to live than others, though. If you're thinking of moving to Ontario, this list of 11 affordable cities and towns will help you choose a place that's perfect for you.
1) Windsor
The city of Windsor's median house price is $174,800 CAD, much lower than many other comparable cities in Ontario. This city of about 200,000 people has tons of different events throughout the year, including the Harrow County Fair, a book festival, and a lights festival in winter. The city also has many different museums and cultural sites, including the Canadian Transportation Museum and the Amherstberg Freedom Museum. On nice days, you can enjoy the city's gorgeous Dieppe Gardens. This garden is located on Windsor's waterfront, and it offers amazing views of the Detroit skyline. The city of Windsor is also a great choice for anyone who likes traveling. The Windsor International Airport has daily flights to Toronto and Calgary. They also have seasonal flights to Orlando, Cancun, and Punta Cana.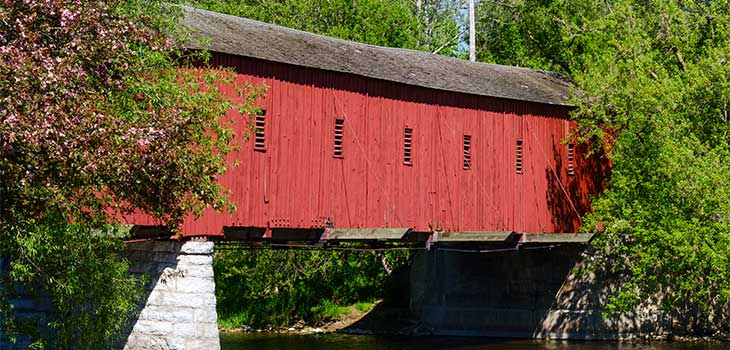 2) Kitchener-Waterloo
In the Kitchener-Waterloo area in Southern Ontario, the average house price is $378,248 CAD. While this is a bit higher than other areas in Ontario, Kitchener-Waterloo makes up for it by having a low unemployment rate of 5.5 percent. The Kitchener-Waterloo area is home to many different tech companies, and it has a strong job market overall. After work, Kitchener-Waterloo residents can take advantage of all the entertainment options in the area. There are numerous performance spaces that put on world-class shows, and there are many modern galleries. There are also plenty of parks that offer sports fields, walking and biking paths, and outdoor and indoor pools. Plus, there are many fun festivals throughout the year, including the Kitchener-Waterloo Oktoberfest, the Kitchener Blues Festival, and the Kitchener-Waterloo Multicultural Festival.
3) Peterborough
The median home price in the city of Peterborough is $299,900 CAD. This city of approximately 135,000 people is just an hour from the Greater Toronto Area, making it a good place for people who commute to Toronto for work. The city of Peterborough is also part of the Kawarthas tourism region. The Kawarthas are filled with beautiful lakes and rivers, providing plenty of options for fishermen and avid boaters. The area is also full of heritage sites, including Petroglyphs Provincial Park. This park contains over 900 rock carvings dating back hundreds of years. In Peterborough itself, you can enjoy many community events. The city hosts an annual folk festival, and also has a fine arts festival. Plus, every Wednesday the city hosts a farmer's market in Downtown Peterborough. This lovely city is full of fun things to do.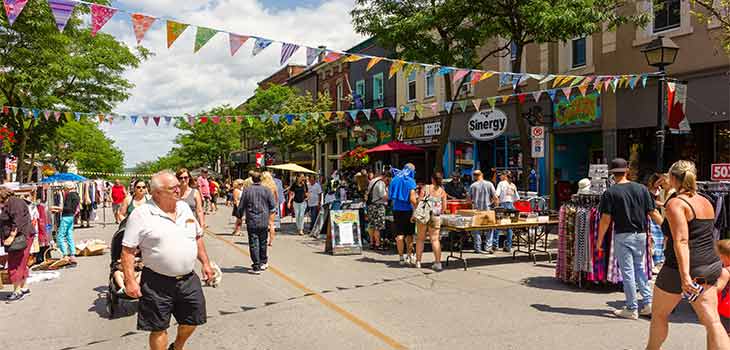 4) Orillia
In the city of Orillia, the average home price is $329,900 CAD. This small city of about 30,000 people is located between Lake Couchiching and Lake Simcoe. On nice days, residents of Orillia head to Couchiching Beach Park to go swimming in Lake Couchiching. This 14.5-acre park also hosts many community events. The city is home to many other lovely parks, including the J.B. Tudhope Memorial Park. This park is also on Lake Couchiching, and it has baseball fields and a swimming area. Plus, the park hosts the Mariposa Folk Festival, which attracts many top folk bands. There are also plenty of good indoor activities in Orillia. You can go shopping for clothes, jewelry, luggage, and more at Orillia Square Mall. Or, you can learn more about Orillia in the Orillia Museum of Art and History.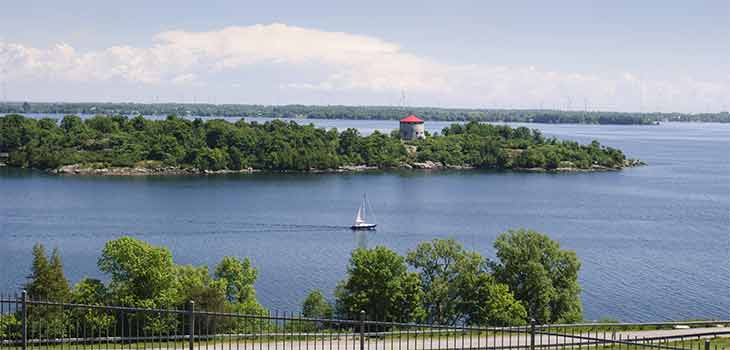 5) Kingston
In Kingston, the average house price is $305,155 CAD. The city of Kingston also has a low unemployment rate of 6.3 percent. The city of Kingston is located on Lake Ontario, and they offer plenty of water-based activities. You can go on boat rides on Lake Ontario, or you can go kayaking or canoeing. You can also enjoy views of the lake at MacDonald Park or Breakwater Park. The city of Kingston also has a variety of historic sites to explore, including the famous Fort Henry. This fort has exhibits on 19th century military life. In the summer, they have a ceremony at sunset each day. Plus, the city of Kingston has a vibrant downtown area that's full of shops and restaurants. You'll always find something fun to do when you're living in Kingston.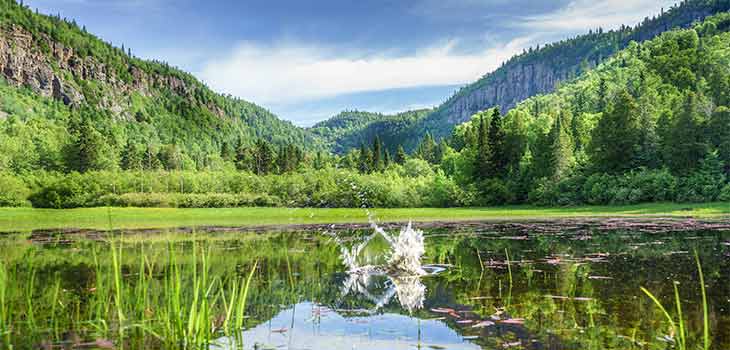 6) Thunder Bay
If you want to move to a beautiful lakefront city, Thunder Bay is a great choice for you. This city is located on Lake Superior, and its median home price is $264,900 CAD. The city of Thunder Bay offers plenty of water-based activities, including boating, diving, sailing, and surfing. There are also lots of land-based things to do in Thunder Bay. You can go for walks on the 34 miles of multipurpose trails that run through Thunder Bay. Or, you could go horseback riding at a local farm. In the winter, Thunder Bay offers fun sleigh rides and dog sledding. Or, you can head up to the nearby mountains and go skiing. There are also a few different business districts throughout Thunder Bay. These districts are all home to great shopping and delicious local restaurants.