New England is home to both idyllic small towns and bustling cities. This area of the country has tons of natural beauty, including colorful forests, towering mountains, and craggy shores. New England is also full of historical sites that date back before the founding of the United States. New England has lots to offer residents. Many people, however, think that to live in this lovely area, you must spend a fortune. This isn't always the case, though. In every New England state, you'll find towns with affordable housing and low costs of living. If you're thinking of moving to the New England, here are eleven of the cheapest places to live in Maine, Massachusetts, Vermont, Connecticut, Rhode Island, and New Hampshire.
1) Montpelier, VT
State capitals are typically one of the most expensive places to live in a state, but that's not the case in Vermont. In Vermont's capital of Montpelier, the average cost of a house is $208,300. The cost of living is also nine percent lower than the state average. Plus, this city is very safe, and the crime rate is 13 percent lower than the state average. The city has numerous festivals, including Mayfest, which takes place on the first weekend of May and includes many family-friendly events. The city also often hosts Art Walks throughout the year. Plus, Montpelier has a great downtown area—it was voted the best small-town downtown by Best Choice Reviews. The bustling area is full of local eateries, bars serving craft beer, cute bookshops, antique shops, and much more.

2) Methuen, MA
If you're thinking of moving to Massachusetts, Methuen could be a great choice for you. This city of approximately 47,000 people is in the northernmost part of the state, right on the border of New Hampshire. The median house price here is just $244,800. If you're a music lover, you'll want to check out the historic Methuen Memorial Music Hall. This hall was completed in 1909, and is home to a huge organ known as "the great organ." The Methuen Music Hall often has organ recitals, and they also host other local singers and musicians. The town of Methuen is also home to the Loop, a shopping center with many top retail stores and a large movie theater. Methuen also has lovely trails where you can go for strolls, and they have plenty of delicious local restaurants to try.

3) Lewiston, ME
The city of Lewiston is most famous for being home to Bates College, a renowned liberal arts school. The city has many fascinating cultural sites, including the Bates College Museum of Art and the history-centric Museum LA. If you're interested in the performing arts, check out the plays and symphony performances at the Franco Center. The city also has lots of beautiful parks, including the 372-acre Thorncrag Nature Sanctuary, which has numerous trails. There's also the Franklin Pasture Athletic Complex, which offers a multi-use field, a baseball field, a softball field, tennis courts, two snack shacks, and a running track. The city of Lewiston is full of cultural sites and fun things to do. It's also inexpensive to live here. The median home price in this city is just $147,500.

4) Littleton, NH
In Littleton, New Hampshire, the median home value is a low $161,100. The town is home to a tight-knit community of about 5,900 residents who come together to complete projects that make the town better. For example, they started the Littleton River District Commission, a group that has helped revitalize the area along the Ammonoosuc River. If you're interested in eating locally in Littleton, check out the classic Littleton Diner and the rustic Beal House. You can also sample craft brews at one of Littleton's local pubs. If you like skiing, head to Mt. Eustis Ski Hill, a volunteer-run ski slope. If you want to learn more about Littleton, check out the Littleton Historical Society Museum and look through all the fascinating artifacts on display. You won't have to worry about running out of fun things to do in Littleton.

5) Windsor Locks, CT
The town of Windsor Locks is in Hartford County in northern Connecticut. It has a low median home price of $213,500. It also has a low cost of utilities compared to the rest of Connecticut. If you're a frequent traveler, Windsor Locks is a great place for you to live. The town is home to Bradley International Airport, which flies to more than thirty destinations domestically and internationally. Once you land back in Windsor Locks, you can take advantage of all the attractions in town. Check out the aviation-themed New England Air Museum, which has over 65 vintage aircrafts on display. After you've had your fill of airplanes, grab brunch at local favorite the Gathering Ground. Or, get a steaming bowl of pho at Pho 75. The town of Windsor Locks offers residents great amenities at a low price.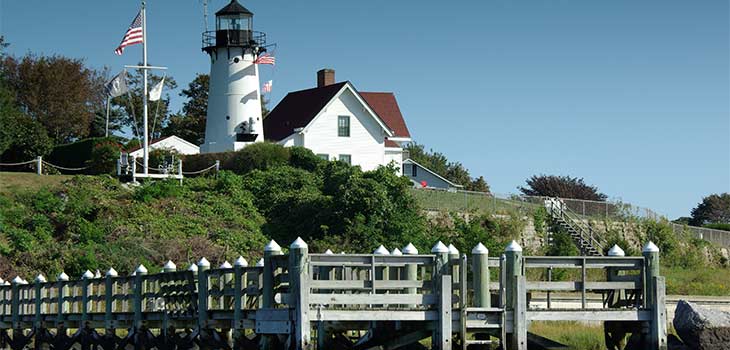 6) Warwick, RI
If you're hoping to move to Rhode Island, check out Warwick, the second largest city in the state. The city of Warwick has a population of about 82,000, and the median home value is an affordable $195,700. You'll find lots of things to do for fun in Warwick, including a variety of beaches. Go for a swim at the 126-acre Warwick City Park or Goddard Memorial State Park. When it gets too cold to swim, go for hikes on these parks' beautiful trails. Or, have a picnic overlooking the water. The city of Warwick also has tons of local restaurants. These restaurants serve everything from classic Italian fare to freshly-caught seafood. Plus, Warwick is home to lots of small local businesses. There is also a large mall with many popular chain retail stores.

7) Plymouth, NH
The city of Plymouth is in the beautiful White Mountains. The median home value here is $229,600, which is below the New Hampshire average of $232,400. If you're an outdoor lover, check out the Polar Caves Park, located in nearby Rumney. This park has caves that were formed during the Ice Age, and it has a nature trail. You can also go hiking or skiing in the nearby White Mountain National Forest, which has more than 800,000 acres of preserved forest. If you want to learn more about the White Mountains region, check out the Museum of the White Mountains at Plymouth State University. This interesting museum has both scientific and artistic exhibits. There are also numerous local and chain shops located through Plymouth, and there are many delicious restaurants you can try out.

8) Leominster, MA
The lovely city of Leominster, Massachusetts is in Worchester County, about an hour from Boston. The median home price here is $232,000, which is lower than the state average. The city of Leominster is most famous for being the birthplace of Johnny Appleseed. Residents of Leominster are proud of this distinction, and they celebrate it every year with the Johnny Appleseed Arts and Cultural Festival. This fun festival has carnival rides, a petting zoo, local vendors selling their wares, and much more. The city of Leominster also hosts other great local festivals and holiday celebrations, including a Halloween parade and a festival of trees around Christmas. The city of Leominster is also perfect for art lovers—it's home to the Leominster Art Center and Gallery, which displays works from local artists.

9) Bangor, ME
The city of Bangor is most famous for being the home of horror writer Stephen King, but there's nothing scary about Bangor's home prices. The median home price in this town of about 32,000 people is $147,400. The city was once known as "the lumber capital of the world." You can learn all about what it was like to live in Bangor during the lumber boom at the Maine Forest and Logging Museum. You can also see old logging vehicles and other vintage modes of transportation at the Cole Land Transportation Museum. If you have kids, they'll love the Maine Discovery Museum, which has interactive exhibits on science and the arts. On nice days, go for walks along the Penobscot River at the Bangor Waterfront area. This park also hosts lots of concerts.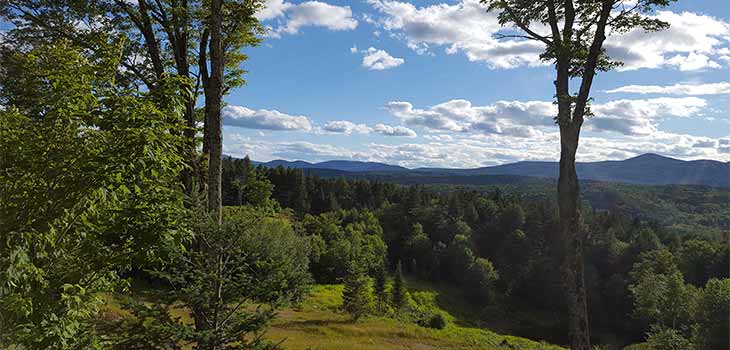 10) Wilmington, VT
The small town of Wilmington is home to about 1,800 people, and the average home price is just $166,400. The picturesque town is in Deerfield Valley in the Green Mountains. There are many places to hike in and around Wilmington. If you're looking for a long hike or bike ride, head to the Valley Trail, which connects Wilmington with the town of Dover. There are also many lovely state parks near Wilmington, and there are plenty of nearby resorts where you can go skiing in winter. The town of Wilmington also has numerous locally-owned shops housed in charming, historic buildings. There are also several galleries in town, and many of these galleries have in-house artists. When you're living in Wilmington, you'll get to experience small town charm, and you'll have easy access to amazing natural sites.

11) Manchester, CT
The mid-sized city of Manchester has a median home price of $185,500. This city of about 58,000 people is famous for its numerous museums. This includes the Cheney Homestead—a farm that was built in 1785. If you have kids, bring them over to the Lutz Children's Museum, which has interactive exhibits that change frequently, giving you a new experience every time you visit. Once you've had your fill of museums, check out some of the local shops along Manchester's Main Street, and stop in for a delicious cup of coffee at Central Perk or Silk City Coffee. Or, go for a leisurely walk along the water at Center Springs Park. After a nice day out in Manchester, treat yourself to a delicious Italian meal at Cavey's Restaurant, or a tasty pie at Mulberry Street Pizza.