A unique blend of mid-western values and southern hospitality, Missouri is a state that often stays out of the spotlight. However, there is plenty of unheard-of wealth in the "Show-Me" State. St. Louis County in particular is home to some very affluent and prominent neighborhoods. Many Missourians working in St. Louis prefer to live (if they can afford it) in the quiet, peaceful, and well-to-do suburban neighborhoods of the state's second largest city. And why not? With the amenities and excitement of St. Louis just minutes away, living in one of these 10 wealthy neighborhoods certainly makes sense. Read on to see where St. Louis's wealthy are shacking up. (Statistics on population and median household income are cited from the U.S. Census Bureau.)
1) Huntleigh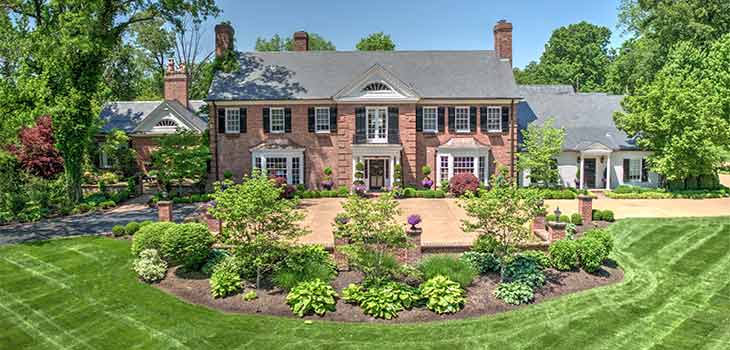 This 334-person neighborhood was once a 650-acre farm in the 1700s. Huntleigh has expanded only by 100 acres in the last few centuries, creating a 1 square mile exclusive community reserved for the most elite people in St. Louis County. In the 1920s, the beer brewing tycoon and president of Anheuser-Busch lived here and helped founded the community's fox hunting club. Members of this family still live in Huntleigh today. With clout like this, it's no surprise the median household income is one of the highest in the state at over $200,000. The community itself is strictly residential and has no commercial or industrial use. Huntleigh is just 15 miles away from the big city of St. Louis, allowing residents to enjoy their privacy without sacrificing the amenities of one of the state's biggest metropolis. Residents here are typically employed in the health or business finance fields.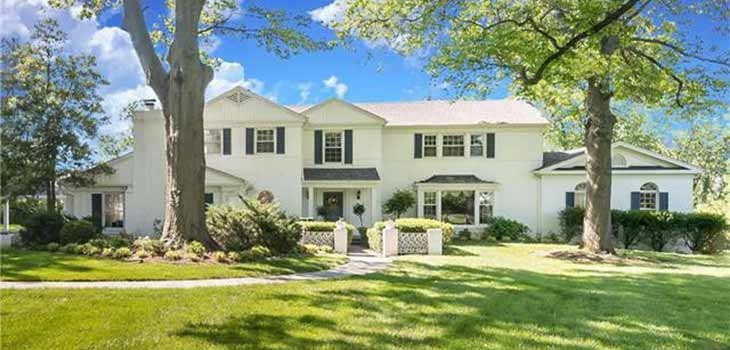 2) Country Life Acres
Just a few short miles west of Huntleigh is an even smaller neighborhood of roughly 100 people. Country Life Acres is classified as a village and takes up just 0.11 square mile of space. The majority of folks living here are married couples and nearly a quarter of the population have children living at home who are under 18. The median household income was just under $200,000 in the 2000 census. The majority of residents work in real estate or the sales and management sectors. Homes have sprawling grounds and spacious interiors, often costing well over 1 million dollars. Folks living here can afford it and then some – most households even have three cars. Lastly, residents feel safe and secure as it has one of the lowest crime rates of all the neighborhoods in St. Louis County.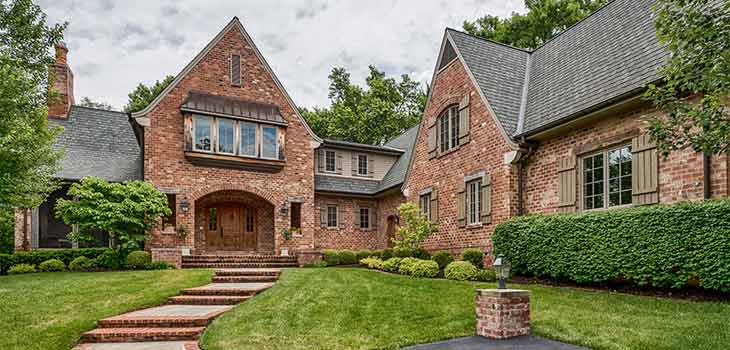 3) Ladue
This Saint Louis suburb with its population of over 8,000 seems huge compared to the aforementioned neighborhoods. It even has its own school system and a small, yet quaint, downtown shopping district. Here, the Saint Louis Country Club and nearby Bogey Golf Club are two of the favorite local hang outs. Ladue has the highest median household income of any city in Missouri, with a population of over 1,000. This is certainly a wealthy neighborhood with the average household raking in $142,000 and the average family earning $180,000. Ladue appears to be a community that favors traditional values. Two cases that received national attention involved court cases over disputes involving the first amendment and familial status. Ladue has very little diversity, racially or economically, and over 80% of residents have a Bachelor's Degree or higher. The economy is centered around real estate, finance, and insurance.
4) Westwood
Just minutes away from Country Life Acres and Huntleigh, Westwood is another St. Louis County neighborhood that wealthy Missourians favor. Westwood is a little over a half square mile and houses just under 300 residents, many of whom enjoy leisurely afternoons at the neighborhood's country club. The median household income in 2010 was nearly $120,000, ensuring that folks here can afford the average $730,000-plus home. The homes in Westwood are both charming, modern. Home appreciation has risen more than 5%. This is a safe, familial neighborhood with the crime rates hovering at 60% less than the city of St. Louis. Almost one third of the households have children under 18. These families have excellent choices of public-school options, with nearby Laude and Parkway School Districts. Business management and healthcare are the most common fields of employment for Westwood residents.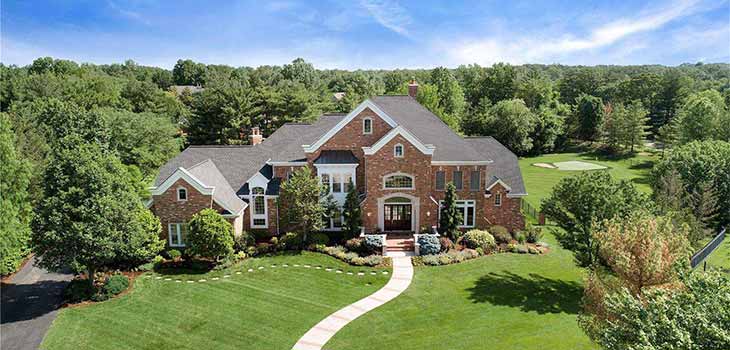 5) Town and Country
As the second biggest place on our list with a population of nearly 11,000, Town and Country was originally founded as a village in 1950. It's now morphed into a bona fide city with one of the highest median incomes of Missourian cities over 10,000, as well as one of the wealthiest cities in the U.S. The median household income is around $140,000. What used to be farmland has developed over the years. However, this is a peaceful residential area with plenty of green landscape for those who prefer a laid-back country setting. This city's biggest claim to fame is Bellerive Country Club. The golf course has hosted the 1965 U.S. Open, the 1992 PGA Championship, and the 2018 PGA Championship. Town and Country had several prominent private schools within its boundaries as well as Maryville University, which offers over 90 degrees at the Bachelor, Master, and Doctoral levels.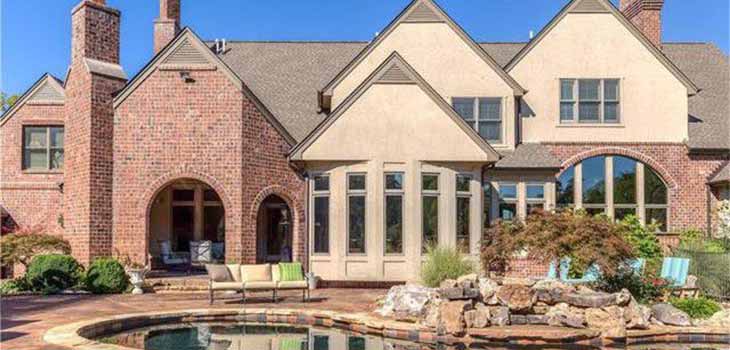 6) Frontenac
Rated one of the best St. Louis suburbs in which to live, Frontenac is nestled between Westwood and Ladue. This neighborhood claims roughly 3,500 residents and is just 15 minutes from St. Louis. The median household income is around $150,000. The neighborhood's style was inspired by the historic Chateaux Frontenac hotel in Quebec City. French architecture is strongly encouraged in real estate design here. Most homes were built on 1-acre lots of land, ensuring that residents have plenty of space and privacy. One of the biggest perks of living in Frontenac is having direct access to Plaza Frontenac, an upscale shopping mall which includes stores like Saks Fifth Avenue, Tiffany & Co., and Neiman Marcus. Roughly 35% of the households include children under 18 and parents have a choice of sending their kids to schools in the neighboring Kirkwood and Ladue School Districts.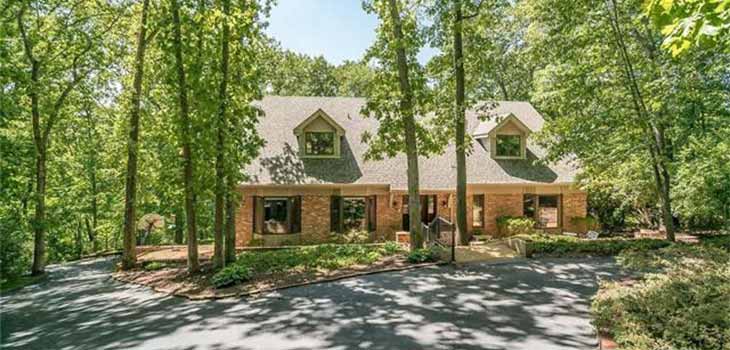 7) Clarkson Valley
A city of roughly 2,600 people, Clarkson Valley is the farthest city from St. Louis at 30 miles away. This affluent neighborhood is a great choice for families raising children. 40% of households have offspring under 18 living at home. The median household income is around $154,000. Rockwood School District has a selection of excellent public schools serving the city, in addition to several local schools in Clarkson Valley. This area is a good pick for those who crave natural scenery. Clarkson Valley boasts a peaceful location amongst tall trees, rolling hills, and valleys with all residential property resting on a minimum of 1-acre of a land. There is a medical office within the city, as well as a country club. The basic philosophy of this city (as declared by the Mayor) is "less government is good government" with a focus on personal safety, property values, and the environment.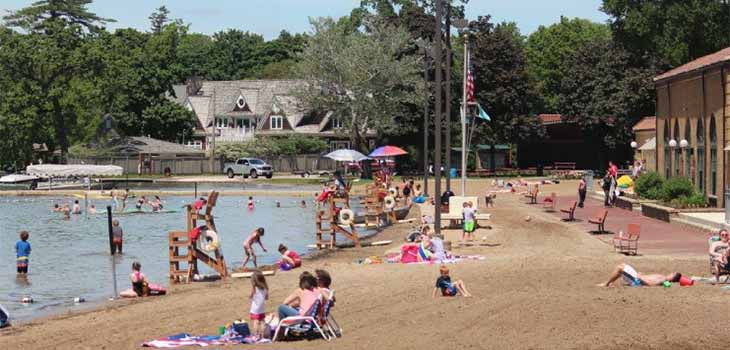 8) Crystal Lake Park
Located about 15 miles west of St. Louis, Crystal Lake Park is listed as a Class 4 city, with a small population of under 500 people. It's almost completely surrounded by the cities and neighborhoods of Huntleigh, Town and Country, Country Life Acres, Westwood, and Frontenac. The median household income is around $80,000. This is one of the more affordable locations to purchase property when compared to other locations on this list. The average home price hovers under $400,000. Management, business, finance, and health practitioners are the main fields of employment for residents in Crystal Lake Park. Most commuting times is less than 20 minutes to work. Hunter Park is the central point of the neighborhood and was recently commissioned in 2015. It currently has a playground and the neighborhood plans to continually improve upon the park, eventually adding gardens and electricity to support park events.