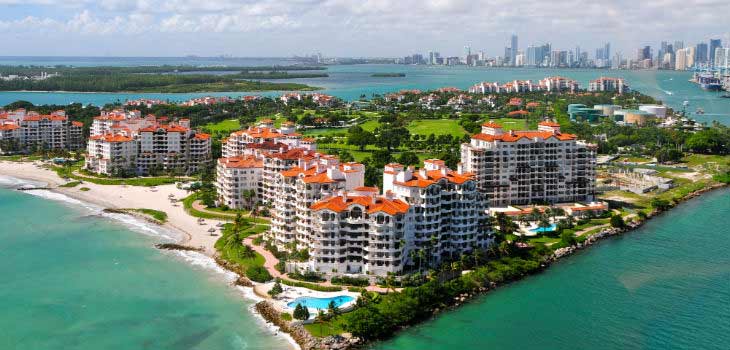 Florida's most affluent neighborhoods are often places where residents, some of whom are celebrities, can often be seen on a talk show or news segment, as much as they might be seen walking their dog down the street. Life among the rich and famous has always been the subject of newsworthy stories, gossip and public fascination.  The neighborhoods which made our list have the highest per-capita income in Florida, as determined by the U.S. Census Bureau. Read on to learn a little about places in Florida where the wealthy, and often famous, call home. 
1) Fisher Island
Fisher Island is a barrier island, three miles offshore from mainland Florida. The small island is recognized as having the highest per-capita income of anywhere else in the United States at $236,238. This is in part due to the low population of less than 500 people. The island is considered one of the most beautiful places in America and has exceptional outlying ports and beaches on the mainland, from Key Biscayne to the Miami port, and South Beach. Fisher Island itself can boast its own beaches, a nine-hole golf course, marinas, tennis courts, a spa, and club. The island is considered by many to be incredibly safe. With the only access by helicopter, boat, or a ferry which runs 24/7, getting on or off the island is heavily regulated. The island is truly where the wealthy go to get away. Fisher Island has been home to the likes of Oprah Winfrey, Andre Agassi, and Mel Brooks.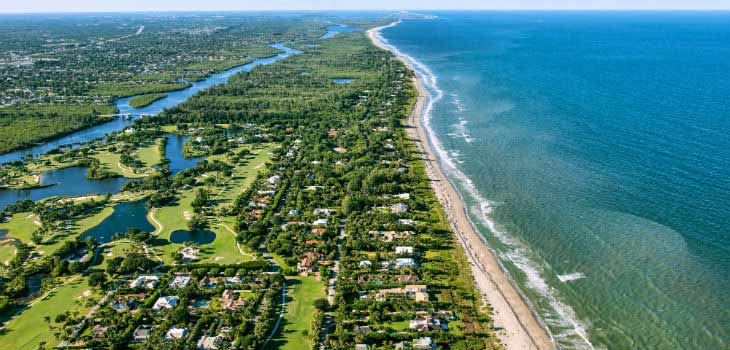 2) Jupiter Island
Jupiter Island could just as well be named Golf Island with superstars such as Tiger Woods, Greg Norman, Gary Player, Nick Price, and Lee Trevino having either owned property or currently residing on the island. Other notables who have lived on the island are Celine Dion, Alan Jackson, and Steve Bisciotti. The population of the island is around 830 people, with an annual per-capita income around $200,000. Homes are as lavish and beautiful as the surrounding turquoise waters, with prices ranging from $2 million, to Celine Dion's $72.5-million-dollar estate. Jupiter island is humorously considered the world's wealthiest private club as it rests quietly away from the rest of South Florida. If you have ever dreamed of what life would be like without a care in the world, and more money than you could possibly toss away in a lifetime, then Jupiter Island would be the place you're fantasizing about.