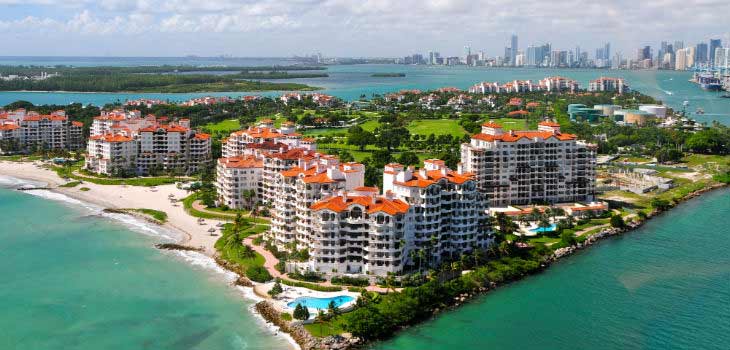 Florida's most affluent neighborhoods are often places where residents, some of whom are celebrities, can often be seen on a talk show or news segment, as much as they might be seen walking their dog down the street. Life among the rich and famous has always been the subject of newsworthy stories, gossip and public fascination.  The neighborhoods which made our list have the highest per-capita income in Florida, as determined by the U.S. Census Bureau. Read on to learn a little about places in Florida where the wealthy, and often famous, call home. 
1) Fisher Island
Fisher Island is a barrier island, three miles offshore from mainland Florida. The small island is recognized as having the highest per-capita income of anywhere else in the United States at $236,238. This is in part due to the low population of less than 500 people. The island is considered one of the most beautiful places in America and has exceptional outlying ports and beaches on the mainland, from Key Biscayne to the Miami port, and South Beach. Fisher Island itself can boast its own beaches, a nine-hole golf course, marinas, tennis courts, a spa, and club. The island is considered by many to be incredibly safe. With the only access by helicopter, boat, or a ferry which runs 24/7, getting on or off the island is heavily regulated. The island is truly where the wealthy go to get away. Fisher Island has been home to the likes of Oprah Winfrey, Andre Agassi, and Mel Brooks.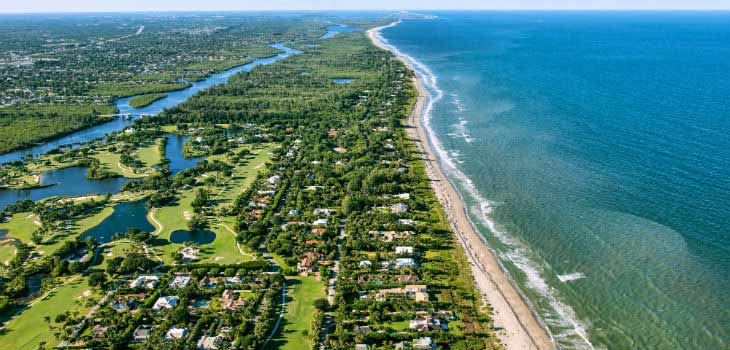 2) Jupiter Island
Jupiter Island could just as well be named Golf Island with superstars such as Tiger Woods, Greg Norman, Gary Player, Nick Price, and Lee Trevino having either owned property or currently residing on the island. Other notables who have lived on the island are Celine Dion, Alan Jackson, and Steve Bisciotti. The population of the island is around 830 people, with an annual per-capita income around $200,000. Homes are as lavish and beautiful as the surrounding turquoise waters, with prices ranging from $2 million, to Celine Dion's $72.5-million-dollar estate. Jupiter island is humorously considered the world's wealthiest private club as it rests quietly away from the rest of South Florida. If you have ever dreamed of what life would be like without a care in the world, and more money than you could possibly toss away in a lifetime, then Jupiter Island would be the place you're fantasizing about.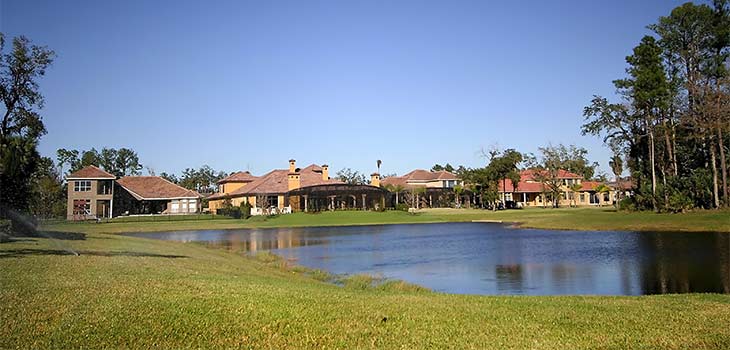 3) Golf
Golf, Florida has one of the highest incomes in America with a per-capita income hovering around $145,000. An island with the name of Golf island might make you think the name came from the 1950's planned community surrounding a golf course. Rumor has it that the name actually came from the number of early settlers who were from Golf, Illinois. However, now, the population of 260 people could just as well cite the small 542-acre area as a golf haven. Golf is situated near Boynton Beach, and the County Club of Florida. It is one of several villages in Palm Springs County, known for a golfing lifestyle, and retirement. As opposed to other notable communities on this list, such as Fisher Island and Jupiter Island, the residents of Golf keep a quiet sophistication on their lavish lifestyle. This is another community for the ultra-wealthy, with posh instead of swag, and old money rivaling the nouveau riche.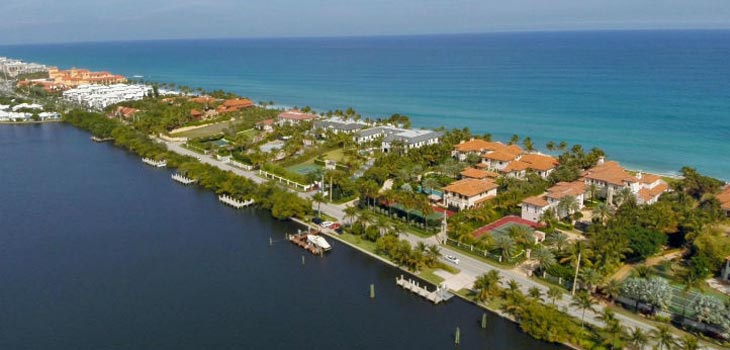 4) Manalapan
Manalapan has a unique list of residents from Billy Joel and Yanni, to defense lawyer, F. Lee Bailey and the founder of The National Enquirer, Generoso Pope, Jr. This small beachside community has a population of just over 300 and an annual per-capita income around $145,000. This small town is one of the few that has been able to push back successfully against large-scale developers looking to take advantage of Manalapan's prime real estate and beautiful scenery. The town is situated close to South Beach, and along the intracoastal waterway. Manalapan shares part of Hypoluxo island with the neighboring town of Lantana. While the Lantana Beach is popularly known as the Boynton inlet, it is the southern tip of the island, in Manalapan that is truly the gem. Manalapan is secluded and quiet, the perfect place for the wealthy to stroll without the rush of the bustling city ruining their relaxation.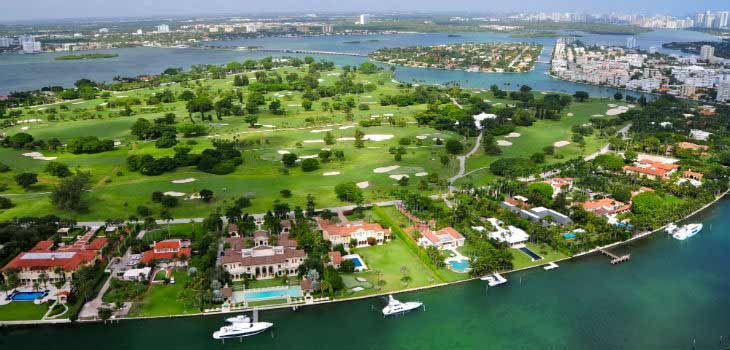 5) Indian Creek
Indian Creek Florida is an affluent community in Miami-Dade County with less than 50 residential homes, and is home to the Indian Creek Golf Club. With one of the top ten highest income communities in the United States it has an annual per-capita of $137,382. All of the homes are quietly perched around an 18-hole golf course. Known as Florida's "Billionaire Bunker" the small harbor island boasts some of the wealthiest names, and biggest property price tags in Florida. With only a handful of homes and properties to buy and sell, the residents tend to be rather exclusive. Indian Creek is currently home to, or was home to Beyonce and Jay-Z, as well as controversial Sheik Mohammed al Fassi, Julio Iglesias, and a handful of billionaire financial geniuses. The island is touted as exclusive, quiet, and very rich, and it's best feature outside of the massive homes and beauty of the island itself is the security.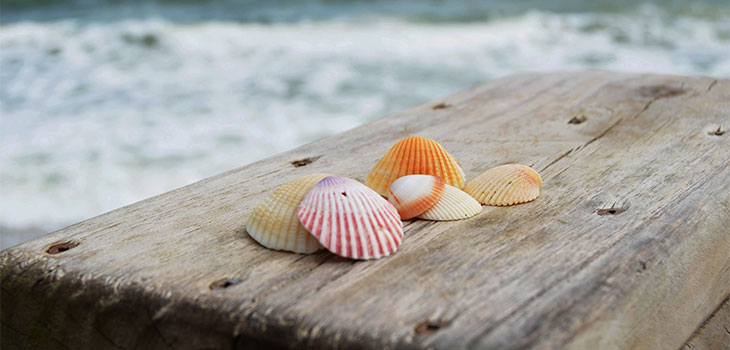 6) Orchid Island
The per- capita income of Orchid, Florida is $135,870 with a population of slightly less than 200. The majority of the town is a gated community called Orchid Island Golf and Beach Club. The remaining part of Orchid is uninhabited islands and wild preserves. Much of the area focuses on wildlife and preservation such as the Environmental Learning Center, Jungle Trail, and The National Wildlife Refuge (not the features you would expect to hear about with one of the wealthiest communities in Florida). However, hidden among the preserves and wildlife are some fantastic million dollar Mediterranean style homes reaching well into the tens of millions. The sparse population of the island allows for a tranquil and relaxing lifestyle in the lap of luxury. Orchid, like many other communities on this list is a place where mega-mansions are stunning and hidden behind a mask of beauty that includes water and tall trees.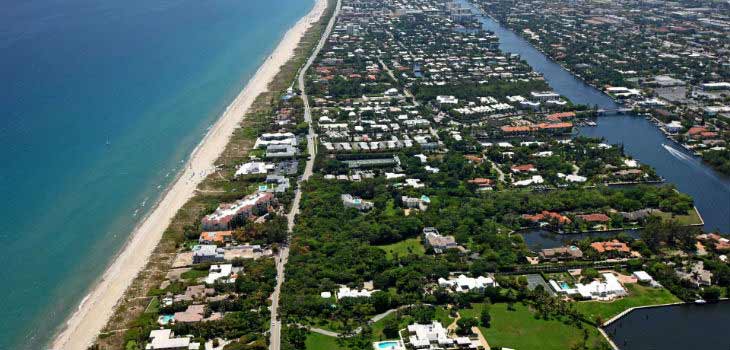 7) Gulf Stream
Located in Palm Beach County, Florida, Gulf Stream has a population of about 750 that has fluctuated little in the past decade. With a per-capita income of $133,651 it is also one of the wealthiest communities in Florida, and the United States. Gulf Stream is a prototypical Country Club Community founded in the 1920's, when these posh communities were all the rage with wealthy investors and developers. Gulf Stream was designated as part of a State Historical Scenic Highway to preserve the Australian pine canopy, as well as the charm of the 1920's. It is home to the St. Louis Cardinal's owner, treasurer, and member of board of directors, South African Tennis Player Kevin Anderson, and artist/sculptor Christopher O'Hare. Unlike many of the other exclusive neighborhoods on this list, Gulf Stream has a steady mix of multi-million dollar homes, as well as condos in the hundreds of thousands of dollars overlooking the ocean.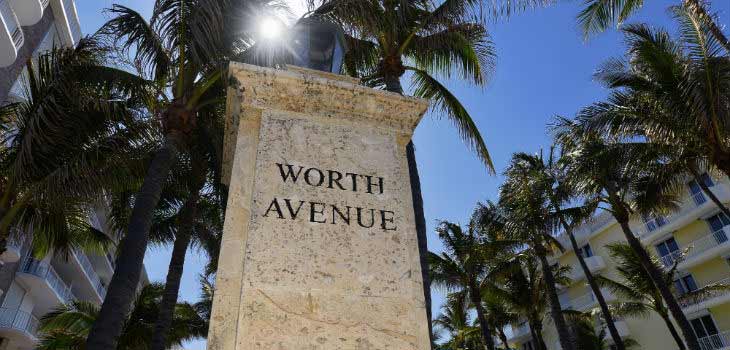 8) Palm Beach
Palm Beach, Florida is in Palm Beach County, and a short distance from West Palm Beach. It is also one of the largest communities on this list with a population nearing 11,000, and in excess of 30,000 during seasonal months. With a per-capita income of $109,219, it is also one of the significantly wealthy communities in the United States. A list of notable residents is too long to list here, but familiar names such as Jimmy Buffet, John Lennon, Michael Jackson, James Patterson, and Rod Stewart have all at one time called Palm Beach home, or owned property there. Palm Beach's tropical climate has much to offer and was cited as such when ranked as America's Best Place to Live by Robb Report magazine. With distinctions such as "abundance of pleasures" and, "strong community-oriented sensibilities" the town finds itself with not only a vacation destination, but also a place where people want to live.