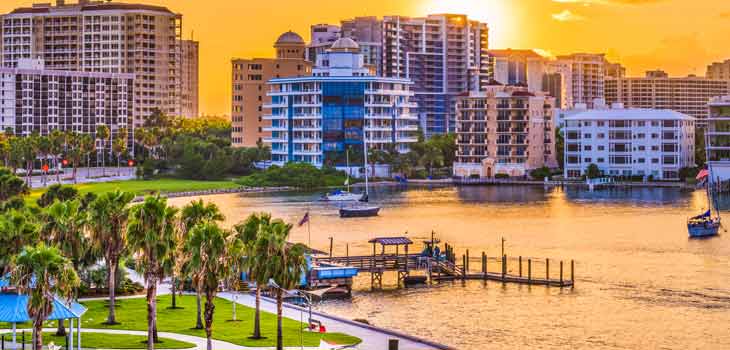 A great deal of decision making goes into retirement, and one of the biggest decisions is choosing where to live. While some people settle down comfortably into their current home or town, others seek change. Perhaps you have a desire to move closer to distant family members, simplify your life, or merely try something different. Maybe you are just sick of shoveling snow and bundling up in heavy layers. It's no coincidence that Florida is famous for its sizable retired population with its warm weather and miles of beaches. Say goodbye to snow boots, ice scrapers and cold Winter. Between the draw of warm weather and lower taxes in many of the locations on this list, many retirees are packing up and heading southward.
1) Sarasota, Florida
Florida is well known for attracting retirees, and for good reason. Many people are escaping the cold weather of the northern and Midwestern states. A large portion of retirees who maintain two homes, only spending winters in Florida, are commonly known as "snowbirds." Sarasota is an excellent location for retirement. The average high in January is 70.9 degrees. The city is within a short distance of Tampa and St. Petersburg, so there is no shortage of amenities and activities. Several beaches are within easy reach, including the top-rated Siesta Key. Myakka River State Park is the place to go for hiking, camping, wildlife watching, and boat tours. Sunny days also draw residents to the numerous the farmer's market, golf courses, tennis courts, and local minor league baseball ball games. The obesity rate is below the national average due to the availability of numerous outdoor activities.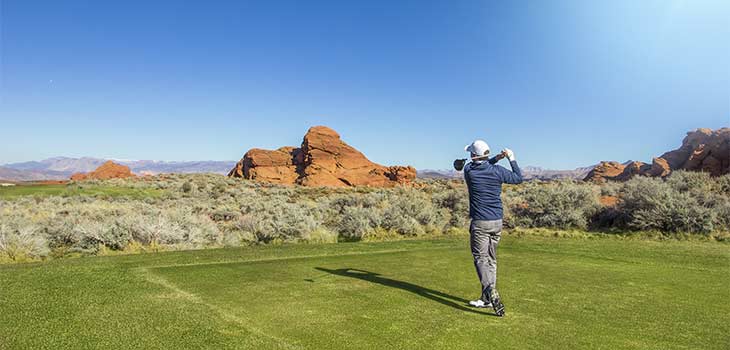 2) St. George, Utah
St. George is in the northern part of the Mojave Desert, 110 miles from Las Vegas. There are 300 days of sunshine, hot summers, and mild winters, with the average high in January of 54 degrees. While Utah is not great for taxes, cost of living is lower than the national average, so groceries, healthcare, and housing are much more affordable. Nearby Dixie National Park and Zion National Park, with its famous red rocks, are a draw for outdoor enthusiasts, as is the Grand Canyon to the south. Residents 50 and older can compete in the Huntsman World Senior Games in golf, archery, softball and more. The area also has great cuisine, museums, art, fishing, and golf. Wine enthusiasts should take note, however, that their options are limited due to a large population of conservative residents.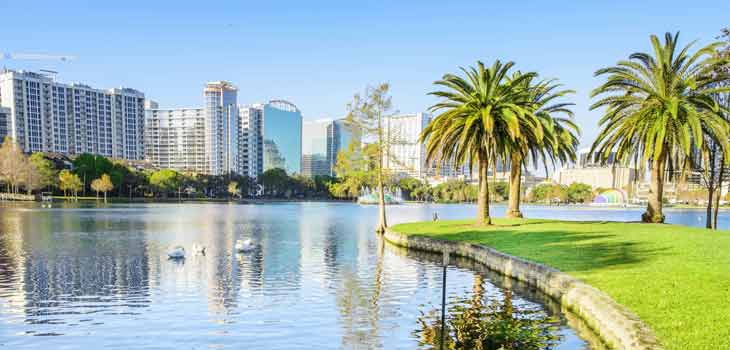 3) Orlando, Florida
Worried the grandchildren won't visit much? No need if you retire to sunny Orlando where you can entice them with Disney World, Universal Studios, or Sea World tickets priced cheaper for Florida residents. Average January temperatures in Orlando range from 50 to 71 degrees. Summers are hot and rainy, while winters are cool and dry. Due to the vast amount of recreational activities and an affordable cost of living, Orlando has been ranked a top retirement spot by WalletHub.com. The city has thriving music scene that extends far beyond the boy bands for which it became famous. Theater is also popular and Broadway tours pass through regularly. Sports lovers will appreciate Orlando's major and minor league teams, as well as the fact that it hosts three annual college football bowl games.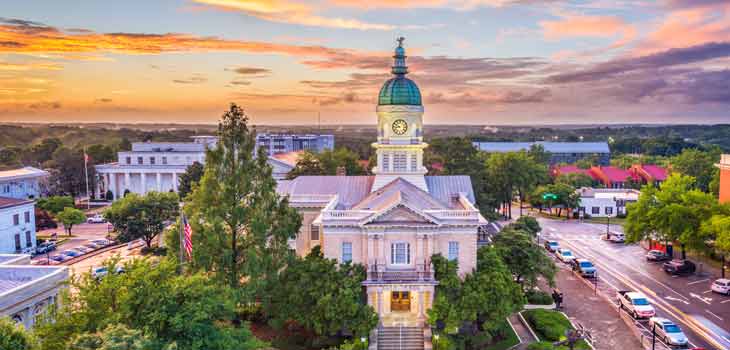 4) Athens, Georgia
Athens is home to the University of Georgia. It's a charming college town which has also been ranked by Forbes magazine as a top retirement spot. The population is about 120,000, but the city of Atlanta is just a little over an hour away. The downtown area is very walkable and filled with restaurants and boutiques. Local businesses also dominate other parts of town, alongside popular chains. The average high in January is 54 degrees and the average low is 33. Snow and ice do happen, but are infrequent occurrences. Taxes are good for retirees and the cost of living is 8 percent below the national average. Thanks to the university, which has more than 30,000 students, there are ample cultural opportunities, including museums, concerts, and major events, like the Twilight Criterium bike race and Athfest.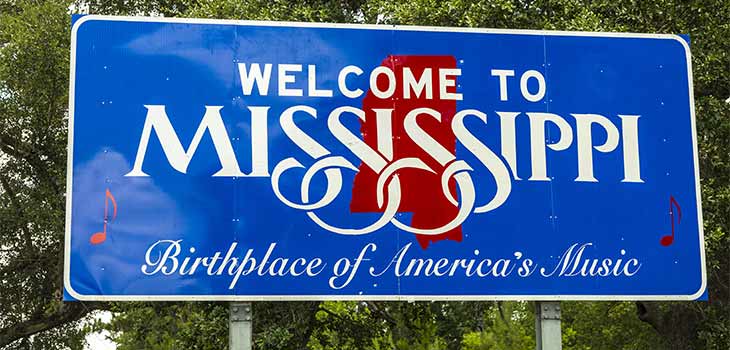 5) Oxford, Mississippi
Oxford, home to the University of Mississippi, is another college town to make the list. Residents 65 and older can even take one free course per semester at Ole Miss. The town also has ample cultural opportunities to attend plays and musicals. It has a thriving music scene too. USA Today named it one of the top six college towns in the country. Though housing can be pricey in Oxford, the state of Mississippi has one of the best tax situations for retirees. For those trying to escape cold winters, the town has the additional appeal of warm weather. Summers are toasty and humid, and the January average high is 51 degrees. The average low is 30 in the town's coldest month. Snow and ice are infrequent. For an exciting day trip, Memphis is about an hour and a half away.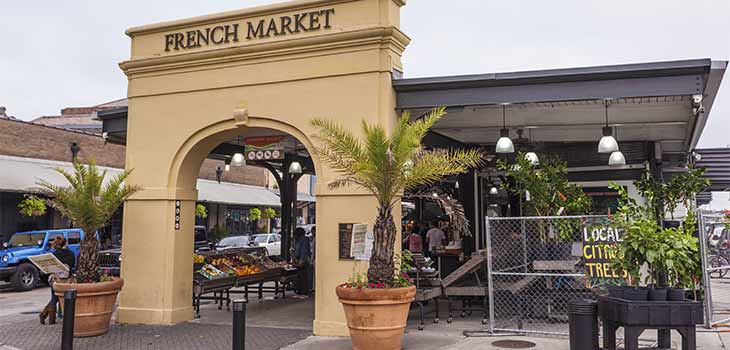 6) New Orleans, Louisiana
If your retirement list includes warm weather, a laid-back city vibe, and lots to do, New Orleans (or the suburb of Metairie) is worth a look. Despite being a major city, cost of living is still below the national average. Additionally, Louisiana's tax situation is extremely appealing to retirees. Summers can be hot. August is particularly muggy and humid, but the payoff comes in January with an average low of 45 degrees. The average high is 62. New Orleans is also hard to beat when it comes to things to do. The cuisine is incredible, the architecture breathtaking, the music scene thriving, and the festivals are frequent. The area is also filled with historic landmarks and museums, as well as opportunities to explore the surrounding nature areas in steamboats and kayaks.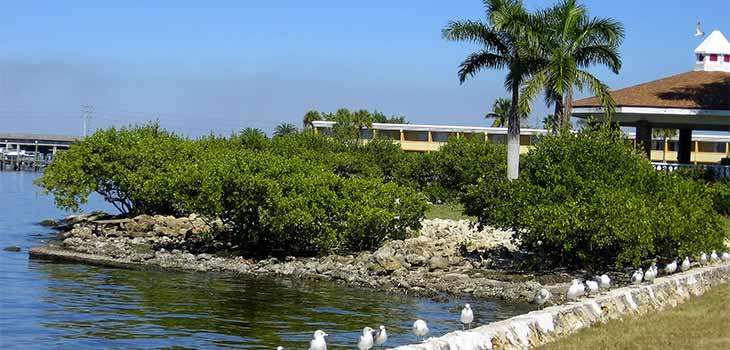 7) Punta Gorda, Florida
Nearly half of Punta Gorda's population consists of retirees, so the area tends to cater to their needs. There are numerous retirement communities loaded with amenities. Golfing and fishing are popular activities. There are also 18 miles of bike and walking trails that pass by Charlotte Harbor. Punta Gorda has an active arts and restaurant scene, and it is only about 50 miles from Sarasota. Summers are quite warm with highs in the 90s, but January sees average lows in the low 50s. It's not uncommon for January highs to hit the 70s though. Florida's tax situation, combined with Punta Gorda's below average cost of living, also makes it a financial draw. Outdoor lovers are drawn to the plentiful beaches, surrounding wildlife refuges, and nature parks. Not much use for heavy sweaters here.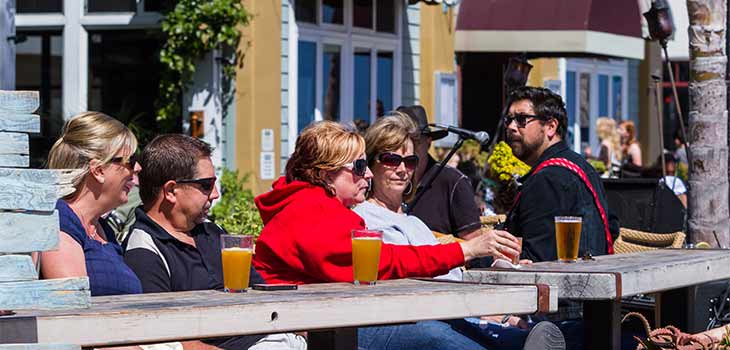 8) San Luis Obispo, California
Located on the west coast, midway between San Francisco and Los Angeles, San Luis Obispo has been called one of the happiest cities in the world. The average temperature in January ranges from 43.6 degrees to 61.1. Winters are mild, and summers are warm and sunny, sometimes with morning fog. The town was the first place to ban smoking in businesses and has also banned the construction of drive-throughs. There are community bike rides, a weekly farmers' market, and regular cultural events. Beaches are only a few miles away and several state parks are a short drive away. Residents enjoy fishing, whale watching, mountain biking, surfing, and golfing. San Luis Obispo is also home to California Polytechnic State University. Residents can sign up for classes at Cal Poly without being a student.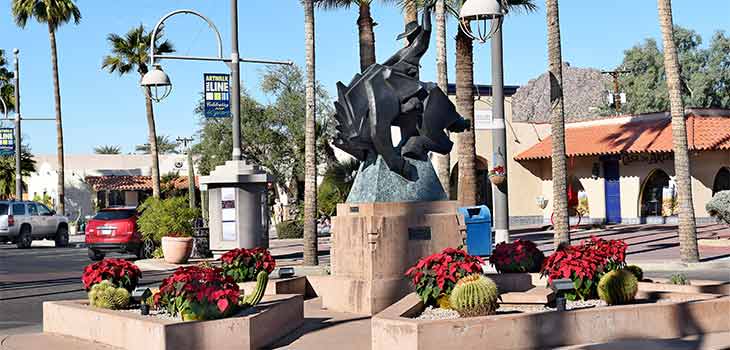 9) Scottsdale, Arizona
Average temperatures in January range from 43 to 66.4 degrees making sunny Scottsdale an appealing retirement spot for those seeking warmer winters. Arizona does not tax Social Security retirement benefits and property taxes are low. There are many retirement communities and assisted living residences. The city is famous for its golfing and spa resorts, as well as its desert landscape. Residents bike, hike, and explore the McDowell Sonoran Preserve, Camelback Mountain, and rock climb at Pinnacle Peak. The area also boasts several breweries and vineyards for connoisseurs of beer and wine. Many regular events take place here, including the Scottsdale Arabian Horse Show, which has been around since 1955, the Jaycees Parada Del Sol, and the Culinary Festival. Any amenities lacking in Scottsdale can likely be found in nearby Phoenix.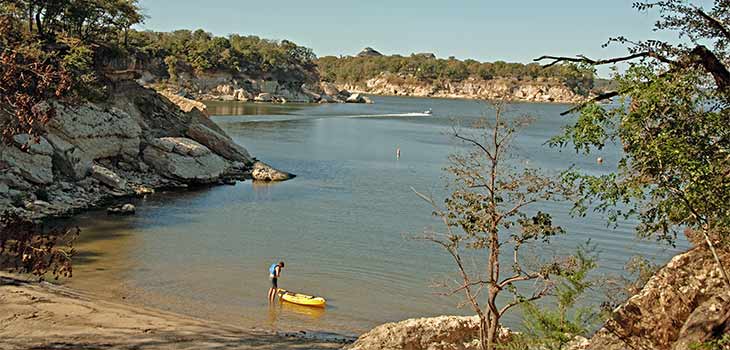 10) Sherman, Texas
Texas is a tax-friendly state for retirees and Sherman's cost of living is 13 percent below the national average. Housing costs are particularly affordable, at 24.8 percent below average. Sherman is great for people wishing to escape the frigid northern winters. The average high in January is 51.9 degrees and average low is 33.1 with little to no snow. Though it is a small town of about 40,000 people, the Dallas-Fort Worth metro area is only about an hour away. Sherman offers many restaurants, boutiques, and community activities. Outdoor lovers head to Hagerman National Wildlife Refuge, which has 500 species of wildlife in its 1,200 acres of protected land. Nearby Eisenhower State Park is popular for fishing, camping, swimming, hiking, and biking. Locals head to Wild Berry Farm for blueberry and blackberry picking and picnics.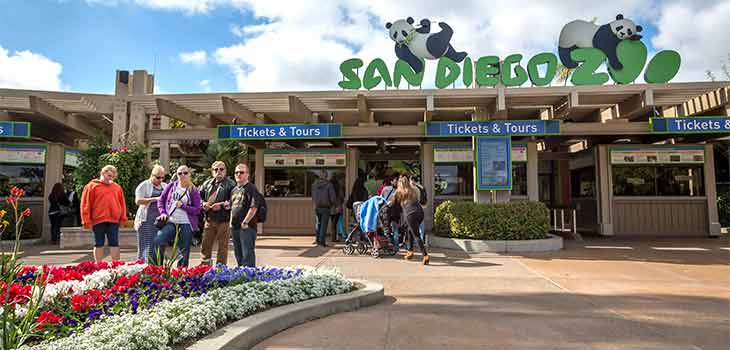 11) San Diego, California
California certainly isn't known for being cheap, but if your retirement budget allows it, San Diego is a great place to spend your golden years. It is famous for its year-round great weather. The city has an average of 146 clear and sunny days a year, plus even more partly sunny ones. Average high temperatures range from the 60s to the 70s. The average high in January is 65 degrees and the average in July is 75 degrees. As a bonus, San Diego offers many outdoor activities to go with all the excellent weather. There are miles of beaches with fishing and boating opportunities, and parks and trails for hiking or jogging. It won't be hard to convince your family to come for a visit with the numerous attractions, including the 1,200-acre Balboa Park, San Diego Zoo, golf courses, and the aquarium.