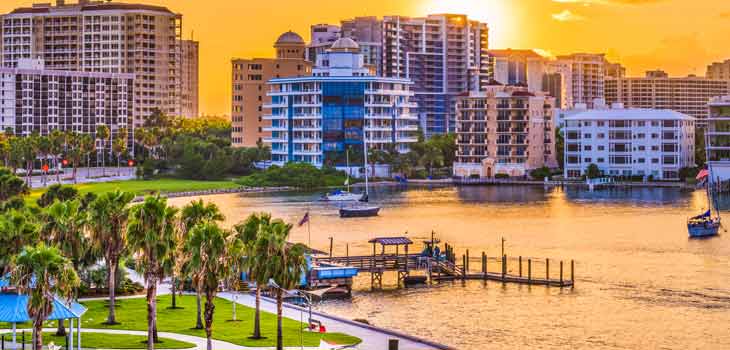 A great deal of decision making goes into retirement, and one of the biggest decisions is choosing where to live. While some people settle down comfortably into their current home or town, others seek change. Perhaps you have a desire to move closer to distant family members, simplify your life, or merely try something different. Maybe you are just sick of shoveling snow and bundling up in heavy layers. It's no coincidence that Florida is famous for its sizable retired population with its warm weather and miles of beaches. Say goodbye to snow boots, ice scrapers and cold Winter. Between the draw of warm weather and lower taxes in many of the locations on this list, many retirees are packing up and heading southward.
1) Sarasota, Florida
Florida is well known for attracting retirees, and for good reason. Many people are escaping the cold weather of the northern and Midwestern states. A large portion of retirees who maintain two homes, only spending winters in Florida, are commonly known as "snowbirds." Sarasota is an excellent location for retirement. The average high in January is 70.9 degrees. The city is within a short distance of Tampa and St. Petersburg, so there is no shortage of amenities and activities. Several beaches are within easy reach, including the top-rated Siesta Key. Myakka River State Park is the place to go for hiking, camping, wildlife watching, and boat tours. Sunny days also draw residents to the numerous the farmer's market, golf courses, tennis courts, and local minor league baseball ball games. The obesity rate is below the national average due to the availability of numerous outdoor activities.