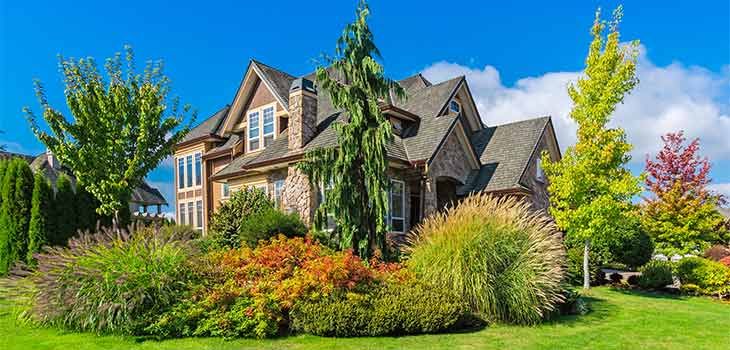 By Amanda Weiss
When deciding where to live, expected wealth may be an important factor to consider. It is true that hard work and experience can affect how much you will earn. But location also plays a role, even within a single state. So, if earning big is a priority for you, considering probable incomes will help you make significant decisions. In Washington state, there are many wealthy neighborhoods that offer resources and pleasant lifestyles. Therefore, if West Coast life is for you, you can find the perfect home. According to United States Census Bureau information, here are the 10 wealthiest neighborhoods in Washington by per capita income.
1) Hunts Point
Hunts Point is a great place for people who want to be close to, but not directly in, Seattle. This suburb is a bit small by population, having only 461 residents, according to Niche. Real estate values are high, with both median home value and rent being above the national average. However, based on how much you will probably earn, affording that housing is not out of the question. If you settle here, you can expect a per capita income of $153,512. Furthermore, Niche reports that 84% of residents own, rather than rent, their homes. Hunts Point is home to well-educated people, over 71% of whom have a bachelor's degree, according to City-Data. The unemployment rate is also lower here than in Washington state overall, also reported by City-Data. Additionally, Niche gives Hunts Point A ratings in categories including nightlife, outdoor activities, and commute.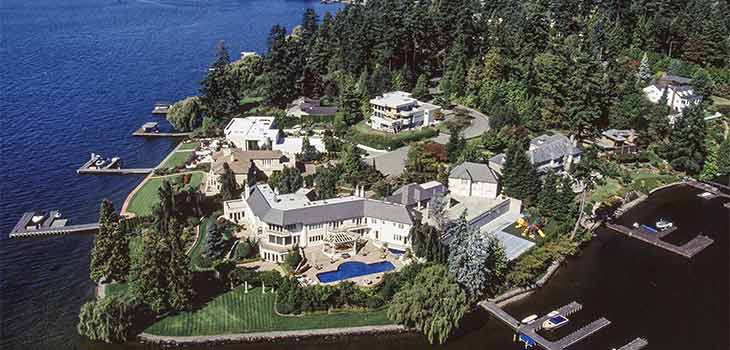 2) Medina
Another wealthy Seattle suburb with a more sizable population than Hunts Point is Medina. The population is a bit over 3,000, and the gender distribution is nearly even, according to City-Data. Niche ranks Medina as having the best public schools in Washington, which is great for families with kids. The per capita income is $105,241, which is quite a nice sum. Additionally, the median household income is nearly 3 times that of Washington state in general, according to City-Data. The age of residents is rather variable, as reported by Niche. There is a significant population of children, as well as a variety of adult age ranges. Safety is also not a huge concern here. The crime rates for both violent and property crimes are far below the national average, according to Niche.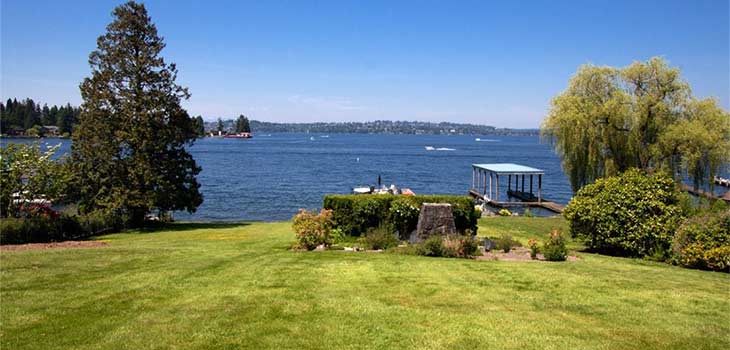 3) Yarrow Point
In addition to being among the wealthiest neighborhoods in Washington, Yarrow Point is a fantastic place to raise a family. It's the safest suburb in the state, as ranked by Niche. Its violent crime rates are basically nonexistent, and property crime rates are lower than the national rate. The per capita income here is $93,495. Therefore, buying a house, even with high property values, is attainable. The median household income is over $200,000, and median house or condo value is over $1,000,000, according to City-Data. Nearly everyone in Yarrow Point has at least a high school diploma, and almost ¾ of residents over 15 are married, as City-Data reports. The same source indicates that the most common industries include professional, scientific, and technical services. Additionally, jobs in management are quite common.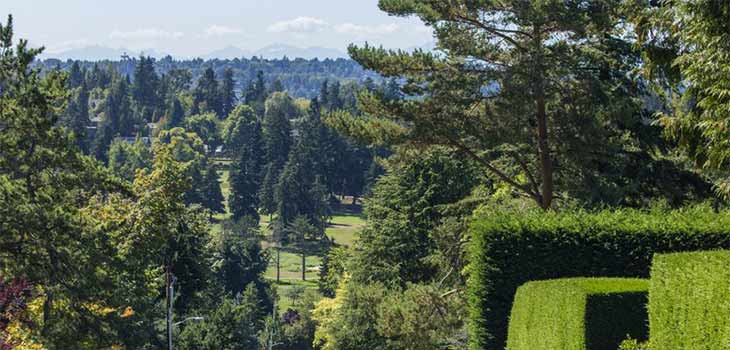 4) Clyde Hill
If being surrounded by natural beauty and being close to Seattle sounds lovely, Clyde Hill may be for you. This neighborhood, with over 3,100 residents, has many positive attributes to offer, according to Niche. It is a great place to raise kids, as it has a rather good public-school system. Residents are well-educated, with college degree rates higher than the national average. Perhaps that has contributed to the high per capita income of residents, which is $91,026. Clyde Hill is also a safe place to raise a family. According to City-Data, crime rates have been consistently lower than the national average. This suburb also has more nationality diversity than other Washington cities, with nearly 20% of residents being foreign-born. There are also many important institutions, such as universities, hospitals, and transportation stations nearby.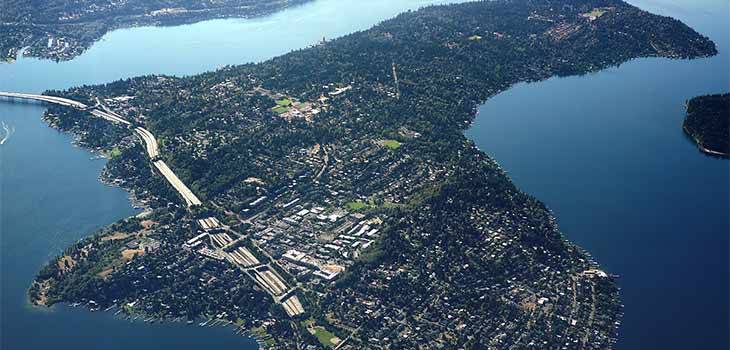 5) Mercer Island
Some people prefer larger suburbs over small towns, and Washington is home to wealthy neighborhoods of both types. Mercer Island has a sizable population of over 24,000, according to Niche. The per capita income is a nice $75,644. As such, you will have a consistent measure of financial comfort if you settle here. Mercer Island residents tend to largely vote Democrat rather than Republican, according to City-Data. This source also reports that most residents of King County consider themselves to not practice a religion. Therefore, this may not be the ideal home for highly conservative and religious folks. The largest age demographic is 65 and older, though, according to Niche, all age ranges are represented here. Niche also reports that the gender ratio is 51:49 female to male, and over 40% of residents have a bachelor's degree.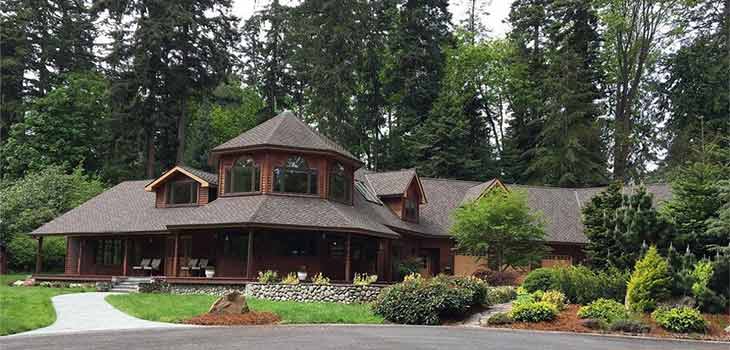 6) Woodway
Woodway is a small community for people who want to have privacy and tranquility, while still being within a short distance to Seattle. With under 1,400 residents, according to Niche, Woodway is a safe and quiet place to live. The median home value is over $1,000,000, according to City-Data. Considering the average $71,087 per capita income, that price is fairly reasonable. This neighborhood prides itself on walkability and being safe for bicyclists. Additionally, Woodway upholds a Tree Preservation Ordinance, which fits well with the town's moniker. It is very much a residential community; commercial activity is only allowed if it does not disrupt that dynamic. There are also several parks for residents to enjoy. They include the Reserve, which has nature trails, and the John Bush Play Area, which has play equipment for children.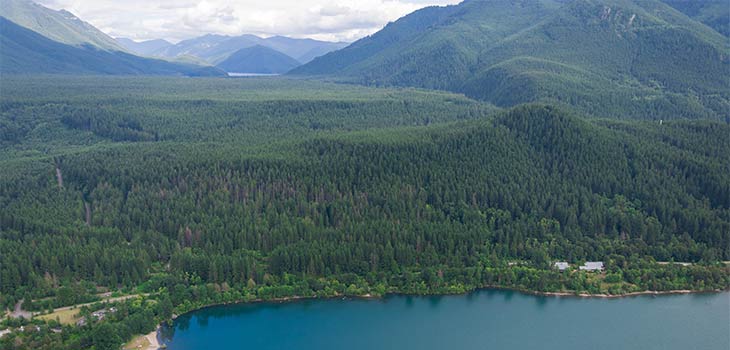 7) Tanner
Tanner is another small suburb in King County that has plenty of appeal. This town has a population of just over 1,000 residents, according to Livability. More than 70% of those residents are adults, and the median age is 43. It makes sense that many residents would be of working age, and the per capita income is $58,783. But even though income isn't among the highest in the state, the cost of living is not too harsh. The index ranks living here as less than 1% over the national standard, according to City-Data. The same source also reports that education inequality is less here than in Washington overall. This makes sense, since the population in Tanner is well-educated. The town also has a lower unemployment rate than the state average, which may also have ties to availability of education.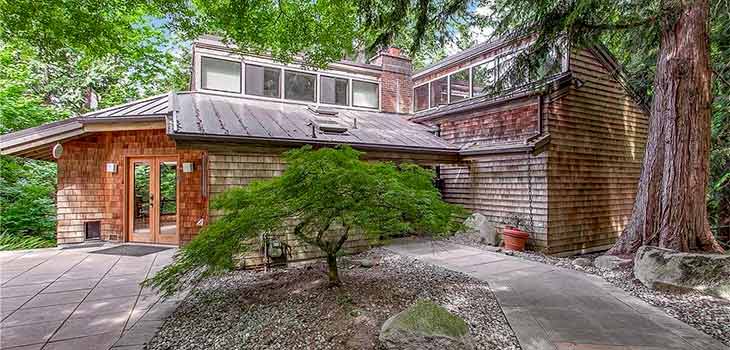 8) Union Hill-Novelty Hill
Another well-rated wealthy area in Washington State is Union Hill-Novelty Hill. The per capita income for residents is $58,285. According to City-Data, median home value is $757,692, which is pricey, but not too unreasonable. The cost of living is a bit higher than the national average. But there are also several important resources nearby, such as hospitals and good schools. The population density is more than 8 times higher than Washington overall, according to Livability. In fact, there are over 22,000 people living in this city. Therefore, you can be sure that people want to live here. There is not a ton of racial diversity, with most residents being Caucasian and a significant portion being Asian. However, Livability does report that 24% of residents are foreign-born, so, as a resident, you may have the opportunity to learn about other cultures.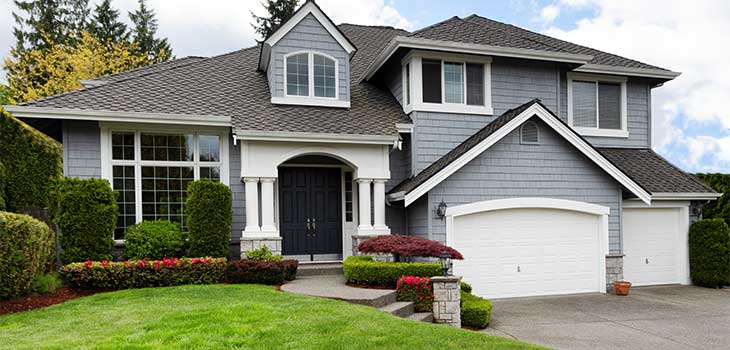 9) North Marysville
If you are looking for a suburb with a small population and rural feel, North Marysville may suit your taste. This town has a little over 100 residents whose median age is 61.2, according to City-Data. The per capita income of those residents is $57,813. North Marysville is also a nice place to live if nice weather is important to you. It's often sunny here. According to Area Vibes, the average summer temperature is a very comfortable 60°F. Since the town is so small, there are not a ton of amenities readily available. However, there is public transit, so you can go to larger cities for resources and entertainment. That way, you can enjoy a quiet life but not be completely isolated. There are also some decent public schools nearby for kids.