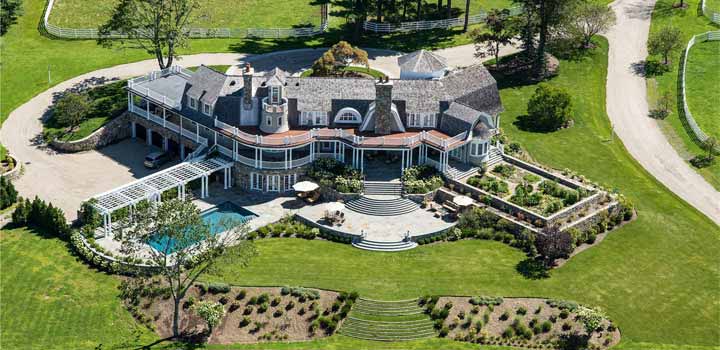 In a recent ranking of the wealthiest states in America, three New England states made the top ten — Connecticut, Massachusetts and New Hampshire. Vermont and Rhode Island made the top 20. Maine didn't fare very well, ranking 30th, possibly due to a significant portion of the residents working in the retail sector, as well as having a sparser population by comparison to more densely populated states in the Northeast. Even within the wealthy states, there is disparity in the affluence of different areas. With that in mind, here are ten particularly wealthy neighborhoods in New England.
1) Greenwich, Connecticut
Greenwich landed a spot on Time Money's "10 Richest Places to Live" list in 2016. While the median household income for Connecticut is $71,346, the median in Greenwich is $136,032. The national median income is $55,775. Connecticut's median home value is $270,900, but Greenwich homes are frequently over the $1 million mark. Connecticut has high levels of education which is a major factor in the wealth here. In 2015, Zillow released a ranking of the most expensive streets to live on in America. Two Greenwich roads made the list. Conyers Farm Drive has a median home price of more than $13 million, and was once the home of actor/director Ron Howard and Judge Judy Sheindlin. Field Point Circle also made the list with home costs over $12 million.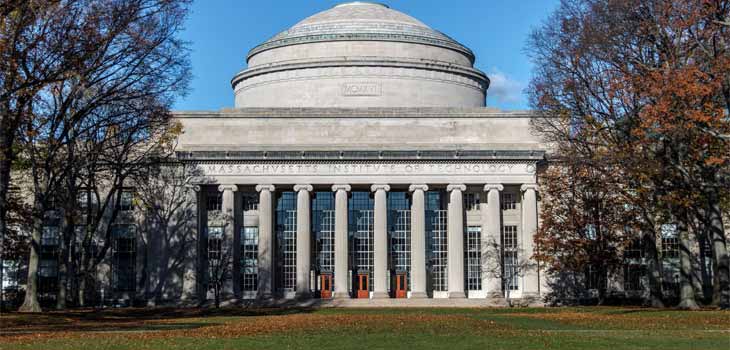 2) Newton, Massachusetts
The Boston suburb of Newton also made Time Money's "10 Richest Places to Live." The state's median income is $70,628, but Newton's is $118,799. Massachusetts' median home value is $352,100, while Newton has a median of $920,000. Like Connecticut, Massachusetts has high levels of education and is home to several prestigious colleges and universities. Newton also made the magazine's "Best Places to Live" list in 2016 ranking 31st. It's only seven miles from downtown and connected by bus and train. The schools are ranked highly and they often partner with nearby universities like MIT and Boston College. Cost of living here is much higher than the national average, but residents enjoy the city amenities, as well as the Revolutionary War history, parks and Newton History Museum.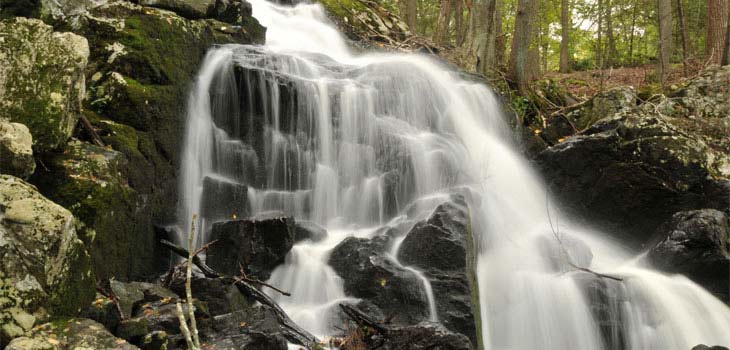 3) Newtown, Connecticut
A study published on MSN.com in 2015 used slightly different criteria to rank the richest towns in America. Newtown was one to make the list. The median income here is $116,771 versus the state average of $71,346. Despite being known for the tragic 2012 shooting at Sandy Hook Elementary School, the town is home to many families and barely an hour from the capitol of Hartford. New York City is just under two hours away. The town offers many parks, playing fields, and recreational areas. While some residents commute to jobs at GE, IBM and Pepsi, major local employers include the Board of Education, Charter Communications, and a couple of healthcare facilities. Residents enjoy housing options such as historic colonial homes, waterfront property and mixed use developments. The median home price is $347,500.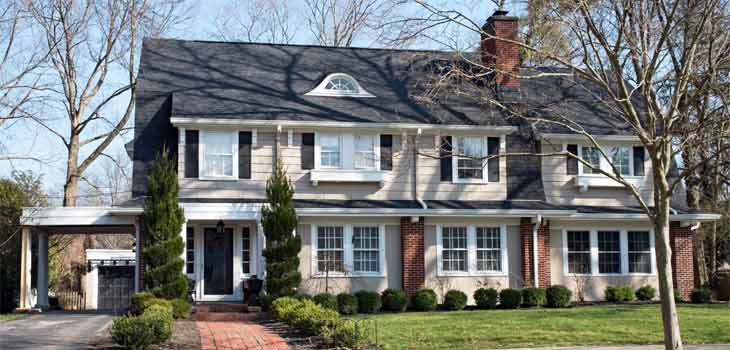 4) Bedford, New Hampshire
Bedford is 50 miles from Boston and a suburb of Manchester. It has a population of 22,204. While New Hampshire's median household income is $70,303, Bedford's median is $123,423, according to the American Community Survey, based on five years of data. The town's website refers to itself as an "upscale residential town." In 2015, Time Money listed Bedford as the 21st "Best Place to Live" in America. The median home price is $352,642. Though many residents commute to Boston for work, there are ample employment opportunities closer in Manchester with two hospitals, three bank offices, Verizon, Texas Instruments and Southern New Hampshire University. The area boasts strong schools and easy access to beaches and mountains. Residents also benefit financially from a lack of state income and sales tax.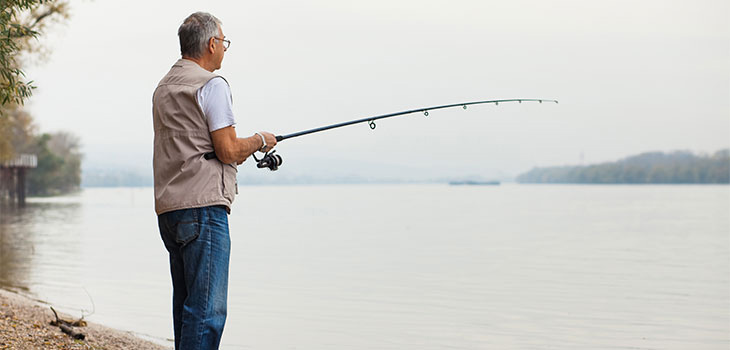 5) Weston, Connecticut
Actors Bette Davis and Robert Redford and Rolling Stones' musician Keith Richards have all owned homes in Weston. In 2011, Connecticut Magazine named it the number one town of all Connecticut towns with populations between 10,000 and 15,000. The current population is 10,388. The median household income is $209,630 versus the state median of $71,346. Weston High School has been highly ranked by Newsweek and U.S. News & World Report. The school district has also been noted as one of the most affluent in the state by 247wallst.com and the Connecticut State Department of Education. Many residents commute to work in New York City 45 miles away. The town has minimal commercial development and boasts a lot of green space. Devil's Den Preserve has a 20-mile trail system. Katherine Ordway Preserve consists of 62 acres, and Saugatuck Reservoir has fishing.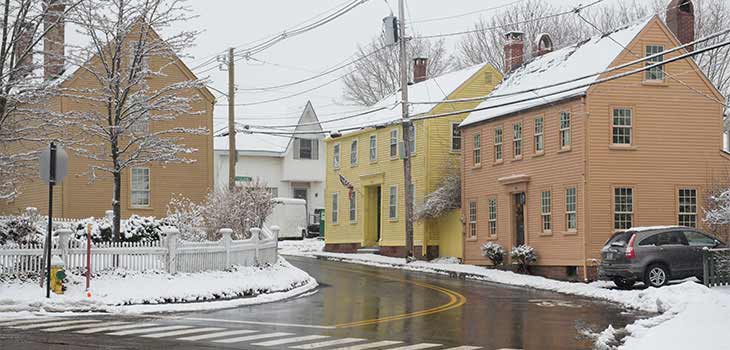 6) New Castle, New Hampshire
New Castle, founded in 1623, is the smallest town in New Hampshire and located entirely on an archipelago. There is one large island and several small surrounding ones. The population is 975 and the median household income is $122,604. The poverty rate is extremely low. The area contains the Portsmouth Harbor Lighthouse, Fort Constitution State Historic Site and the Fort Stark State Historic Site. The Great Island Common is a family-friendly area with a beach, playground and picnic area. Boating is another popular activity given the location on the Atlantic Ocean. Odiorne Point State Park is also accessible for outdoor enthusiasts. New Castle is about an hour from Manchester and an hour and 15 minutes from Boston. Nearby Portsmouth also provides many employment opportunities in agriculture, fishing, service and tourism. Portsmouth Naval Shipyard is major employer.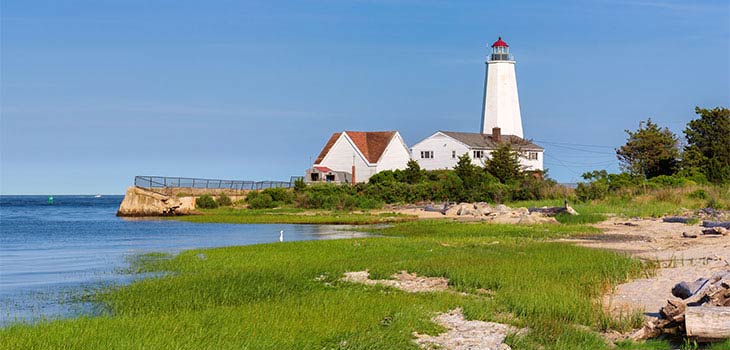 7) Fenwick, Connecticut
Fenwick was created in 1899 and is the smallest municipality in Connecticut population-wise. It has 43 residents and it is a political subdivision of Old Saybrook. It was also home to Katharine Hepburn. Residents pay property taxes to both. It shares police, ambulance, fire and school services with Old Saybrook, as well. The median household income, in a borough with only 26 households, is $114,375. The median family income is over $250,000. Located on the Long Island Sound, where the Connecticut River flows into the larger body, it's less than an hour from Hartford and about three hours from New York City. A causeway over South Cove connects it to downtown Old Saybrook. Fenwick has 195 acres of historic district that includes 60 buildings and the golf course.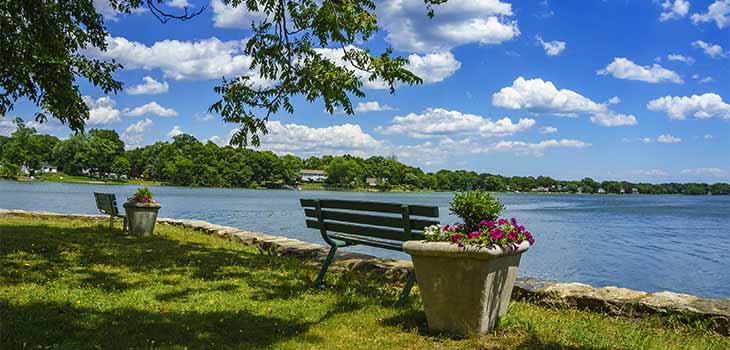 8) New Canaan, Connecticut
New Canaan is part of Connecticut's Gold Coast, an area known for its wealth. It shares this membership with Greenwich, Darien and Weston, which also made this list. It's 12 miles from Greenwich and 48 miles from New York City. Many residents commute to New York via rail. Home styles range from large mansions, colonials and farmhouses to modern styles designed by the Harvard Five, a group of architects who settled here after attending Harvard University in the 1940s and 50s. The median household income is $179,338, while the state median is $71,346. The town center offers high end shopping and boutiques. Additionally, the school system is highly regarded and has been recognized by Forbes, Connecticut Magazine, and Barron's. In 2012, 247wallst.com rated it the 8th wealthiest school district in the country.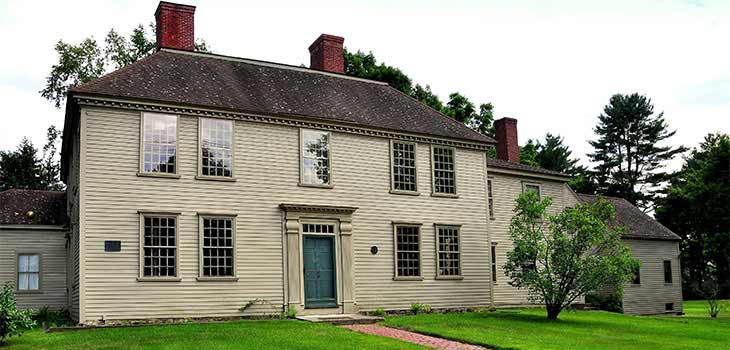 9) Weston, Massachusetts
Weston is one of the most affluent towns of its size and one of the most expensive ZIP codes in the country with a median home price over $2 million. Forbes ranked it the 87th wealthiest ZIP code in 2015. Its neighboring town of Newton also made this list. The median household income is $192,563, compared to the state median of $70,628. Only 17 miles from Boston, many residents commute to the city for work. There are 2,000 acres of protected land with 90 miles of trails for residents to enjoy. The town provides ample recreational activities, including exercise, cooking and art classes. There are also organized children's activities. In 2013, Boston Magazine ranked Weston as one of the best places to live in the Boston area.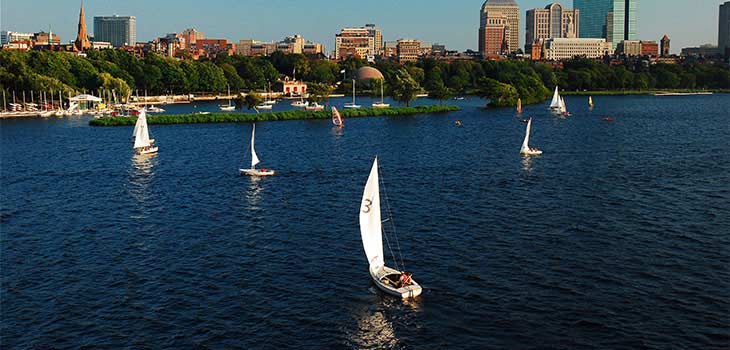 10) Dover, Massachusetts
Dover is only 15 miles from Boston and sits on the Charles River. It was first settled in 1640, but didn't become the town of Dover until 1836. Boston Magazine has ranked the schools as being the best in the state three times, in 2013, 2014 and 2015. The median household income is $187,829, more than two and a half times the state median. The median home price is around $1 million and the population is 6,279. The town maintains miles of trails for walking, horseback riding and cross-country skiing. Residents have access to a boat landing, fishing and ice skating on Channing Pond. Caryl Park's 83-acres of land offers tennis courts, lacrosse and soccer fields and walking trails. Locals also enjoy the annual 5k and Dover Days Festival.