[adrotate group="7″]
7) Buy Fresh Items More Frequently
It's easy to buy everything at once when you venture to your local grocery store. The problem is, fresh items such as meat, fish, dairy and produce, have a limited shelf life. So, among your meal planning should be buying your fresh items closer to when you're actually going to use them. This will avoid the stress of having to cook everything in a short time due to potential spoilage. Stocking up on non-perishables, especially when they're on sale, will help avoid having to do extra large shopping trips. You could even split the type of shopping you do between pantry items and fresh items. That way, once you have your pantry items, you can plan your meals and head to the store to buy just the fresh items. This will also help to avoid over-spending, since you're heading there with a plan and definite purpose.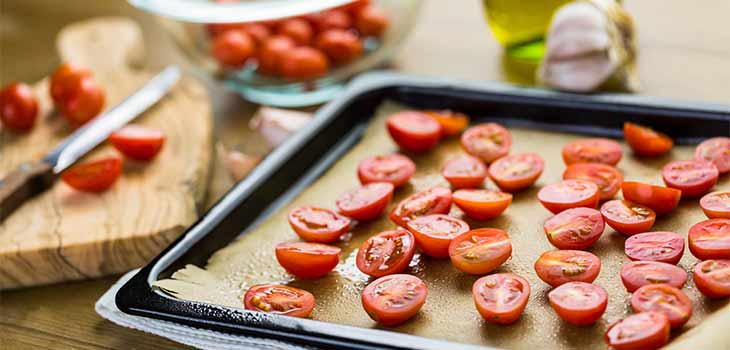 [adrotate banner="41″]
8) Re-purpose Items
Sometimes, you can't seem to avoid food spoilage. It's hard to think of what to do with something fresh, if you hadn't included it in a meal plan. It may have been an impulse buy, such as buying a whole bushel of tomatoes or apples while passing by the local farm stand. Not to worry. Will a little ingenuity, you can re-purpose and save them for a rainy day. For example, you could roast the tomatoes in the oven with a little olive oil and Italian spices. Then fill containers for freezer storage. Then, down the road, when you decide to make pasta or home-made pizza, simply defrost one of those containers to complete your sauce. Apples are another example. You can cook them with a little cinnamon and make apple sauce. Then place it in some canning jars which will seal tight enough to store them in your pantry.