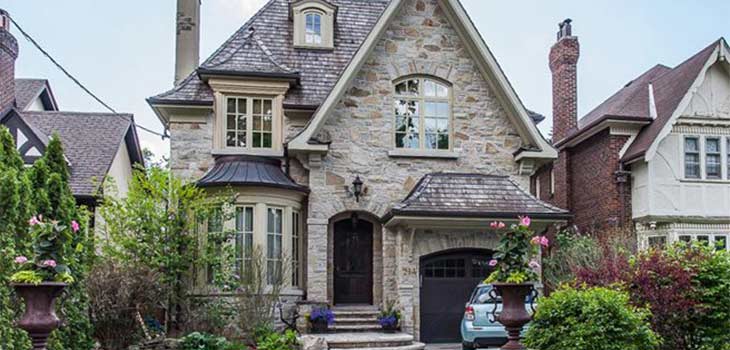 You may or may not be surprised to learn that Ontario, Canada is CHOCK full of wealthy people and affluent neighborhoods. Whether or not you were aware of the riches in this Canadian province, this list will impress even those who are already in "the know." The Toronto suburbs and the Greater Toronto Area (GTA) claim the majority of the neighborhoods on our list. From idyllic natural settings, multi-million-dollar homes, exclusive amenities, and picture-perfect residential areas, these 10 neighborhoods know how to relax in the lap of luxury.
*Statistics Canada helped to provide the numbers in terms of population and household incomes. Local real estate agencies and official town websites provided the average housing costs.
1) Forest Hill South, Toronto
As one of Toronto's most prestigious districts, Forest Hill South neighborhood owes much of its reputation to its schools. Two of Canada's highest rated schools – Upper Canada College for boys and Bishop Strachan School for girls – call this district home. Education aside, this neighborhood is very aesthetically pleasing. Lots of green spaces, well-kept public areas, and classically elegant homes from the 40s and 50s made from brick and stone make this a very desirable place to live. The average home here sells for around $2.1 million, keeping this neighborhood's reputation elite and exclusive. Of course, it makes sense that the annual average household income for the majority of the nearly 11,000 residents soars over $200,000. While it's true this neighborhood can fully function as its own entity separate from Toronto, the downtown of one of Canada's most vibrant and exciting cities is just a few kilometers away.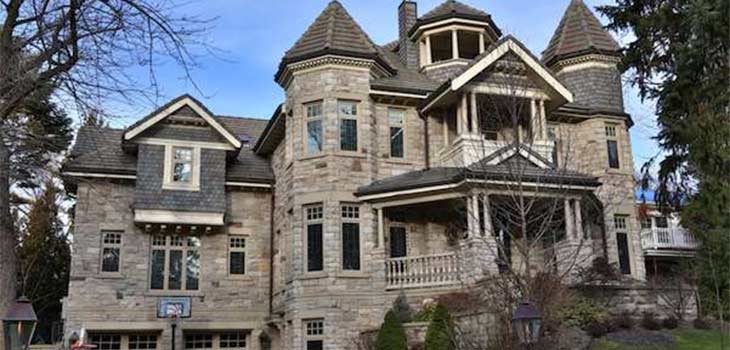 2) York Mills, Toronto
The name comes from the area's old grist mills industry. Nowadays it's clear this neighborhood has strayed far from its blue-collar roots. The average household income is $1.2 million, defining York Mills as the most affluent neighborhood in Ontario and the second richest in the nation. Going hand in hand with sky high incomes are the hefty price tags on homes. The average price is nearly $3.5 million. One of the reasons this neighborhood is so uppity is the heavily preserved natural scenery and greenery. It's clear this district's been built around nature, and not the other way around. Even still, York Mills has a wonderful central shopping plaza featuring gourmet food shops, a winery, and specialty retail shops. The location is far enough away from the city center to feel secluded, but close enough that the glittering nightlife, arts, and cultural scene of Toronto is accessible in 20 minutes.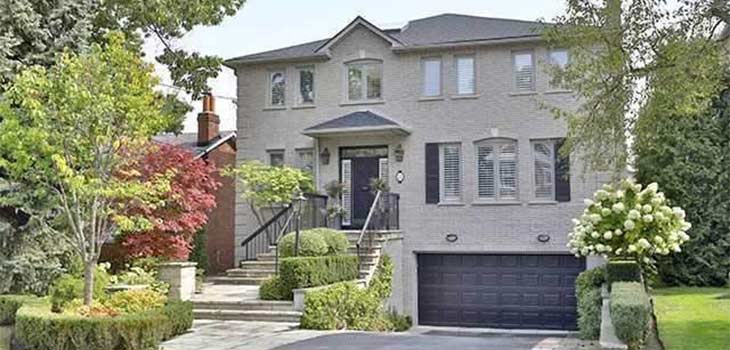 3) Sunnybrook, Toronto
A sprawling community bordering two other wealthy neighborhoods – Bridle Path and York Mills – Sunnybrook's biggest draw is its family-friendly vibe. In fact, absent are the grid-like streets of the other neighborhoods and are instead replaced with cul-de-sacs and crescent-shaped streets. There's a range of facilities for residents of all ages, from schools to retirement homes. Here, it's common for three generations of family to live together in one home. Perhaps this explains why the community has a high number of people over the age of 65. The average household income is nearly $300,000 and the average home here runs well over $2 million. Sunnybrook is the home of the highly regarded research hospital, the Sunnybrook Research Institute. Rounding out this community's amenities is Don Mills – an outdoor shopping center – and plenty of family parks, plus hiking and walking trails.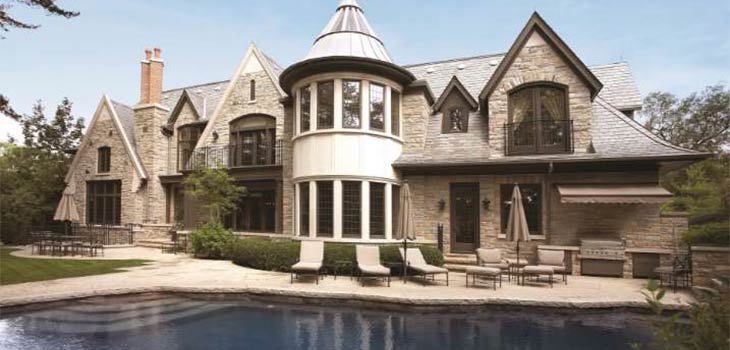 4) Bridle Path, Toronto
Completing the luxurious trifecta district, Bridle Path has earned itself the exclusive nickname ''Millionaires' Row.'' Located in the Don River Valley, surrounded by greenery, the multi-million-dollar estates in this tightly knit neighborhood average $2.2 million. However, it's easy to spend a whole lot more than that. Folks here don't really balk at the cost since the average annual household is earning just shy of $1 million per year. The 10,000 or so Bridle Path residents shop at the York Mills Plaza, described by Toronto's mayor as the Tiffany's of shopping plazas. Found inside are high-end wine and cigar shops, imported chocolates, and designer clothing and accessories. Shopping isn't the only way folks occupy their time; Bridle Path's location is a walkable distance to the Edwards Gardens, home to Toronto's beautiful botanical blooms. It's also the start of the 9-kilometer walking path that leads into nearby neighborhood, Sunnybrook.
5) Kleinburg, Vaughan
This charming country community of 4,000 residents is framed by the Humber River, offering a comfortable and pleasant setting for a peaceful life. The attractive streets and neighborhood designs ooze with a quaintness not found anywhere else. Kleinburg is one of a kind and locals here thoroughly enjoy spending time in their little bubble. The sense of cohesive community is strong with the neighborhood hosting many events and festivals. Home decor shops, galleries, restaurants, and boutiques line the downtown streets, many of which are housed in beautiful historic homes. Kleinburg's biggest claim to fame is being the home to the world-renowned McMichael Canadian Art Collection. Want to live here? Be ready to shell out around $1.2 million – the price of an average home. Nearly half the households here rake in annual average incomes well into the 6-figure range, easing the pain of the heavy property prices.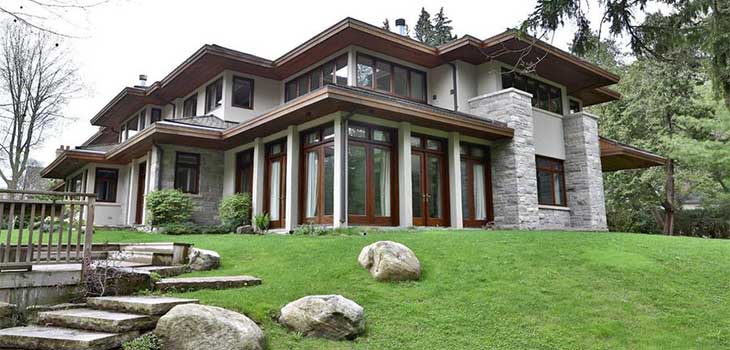 6) Hoggs Hollow, Toronto
Known for being a posh and private community between 3-4,000, Hoggs Hollow is another district on this list set in the Don River Valley. Lush trees line the crescents and cul-de-sacs, creating an appealing and charming environment. Adding to the fairytale-esque feel is the old stone bridge arching over the babbling Don River. The biggest highlight of this area is the real estate. The houses, built in the 1920s – 1960s, have a fascinating architecture, combining Colonial, Tudor, and English Cottage style. Homes here are some of the most sought-after properties in the Greater Toronto Area. Residents, composed of many successful doctors, lawyers, and politicians, enjoy their private golfing greens, tennis clubs, and country club. Hoggs Hollow is pure sophistication, which is reflected in the real estate price tags. The average household income is over $400,000 and the majority of the homes here cost between $1.5 and $7-million.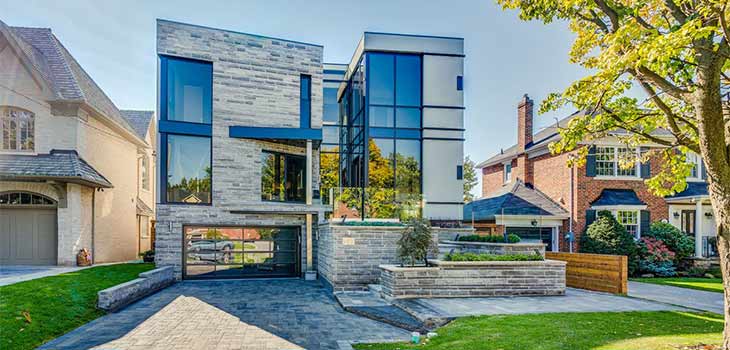 7) Lawrence Park North, Toronto
This neighborhood's well thought out design with shops, schools, and many businesses on the outside perimeters ensures there is very little traffic on the residential streets. This set-up makes it even easier for the 15,000 or so locals to peacefully enjoy the rolling hills and tranquil landscape of the area. The homes in Lawrence Park, many of which were built between the 1910s -1940s, are true classics. Although the houses have been restored from their original state, much care has been taken to ensure some of their origin is preserved. The majority of residents here enjoy a very comfortable lifestyle; over 40% of households earn an annual income of $200,000 or more. Average home prices hover between $2-$4 million with the average condo selling for just over $1 million. Well-tended gardens, parks, and a popular country club round out this highly-desirable neighborhood.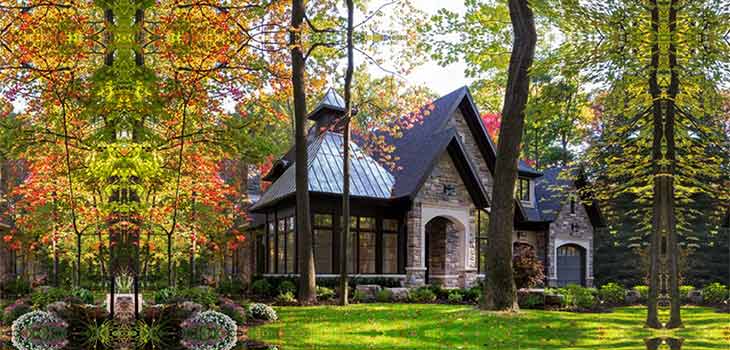 8) Lorne Park, Mississauga
A residential suburb, Lorne Park is an affluent, family-friendly community with relatively new homes built on expansive property. Roughly 40,000 people call this neighborhood home for many outstanding reasons. First, the schools in Lorne park are rated as some of the best in Mississauga. Therefore, families seeking a top-notch education for their children flock to this suburb. Lorne Park is an outdoorsy area, with residents partaking in outdoor activities in addition to hiking, walking, and bird-watching in the Rattray Marsh Conservation Center. Just 5-minutes down the road, locals thoroughly enjoy The Port Credit village. Here you can sip craft beers, indulge in fine-dining, shop boutique shore, or hire a boat charter. This area is also the site of many locally-hosted events and festivals. Almost half of the households in this neighborhood make $200,000 or more annually. The average home costs $1.5 million and larger 5-6-bedroom homes average over $2 million.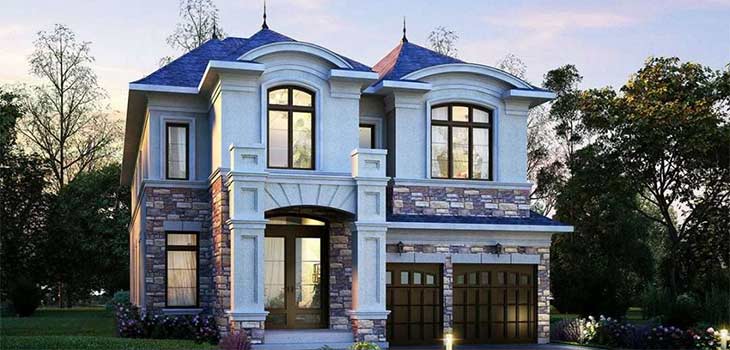 9) Markham
Known for its multi-culturalism and welcoming vibe, this large neighborhood of 353,000 is a true melting pot. Nearly three-quarters of its population is made up from minorities. In addition to proudly owning its diversity, Markham has also dubbed itself the "Hi-Tech Capital of Canada." Logical – when you learn that Apple, I.B.M., Toshiba, and AT&T all have corporate offices here. Honda Canada and American Express Canada also call Markham home. Not just for techies, Markham also boasts plenty of shopping options from weekend farmers' markets and antique shops to popular retail shops and shopping centers. Every resident can find their fix. Pacific Mall, a huge indoor Chinese shopping mall, is the area's most unique experience. Here you'll find everything from fine dining options to herbal tea remedies. The median home price is under $1 million, with apartments averaging around $350,000. The median household income is well into the 6-figures.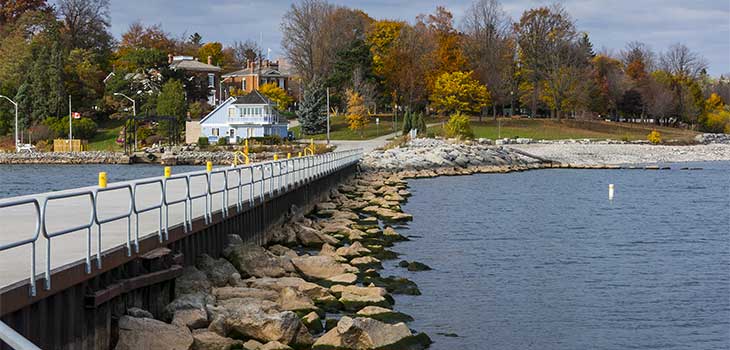 10) Oakville
Resting on the shores of Lake Ontario, this town is all about the picturesque harbor views and the vibrant downtown waterfront. The 200,000 or so residents love spending time browsing the up-scale boutiques, galleries, wellness centers, gourmet food shops, and dining at high-end restaurants. And they're not the only ones; Oakville hosts over 1 million visitors every year. There's also an amazing arts and cultural district (also in downtown), making Oakville a total hot-spot for folks who want to live in a social area. Oakville's beauty isn't only skin deep; there's just as much natural beauty in this area as there are man-made attractions. With several beaches, parks, and opportunities for biking, bird-watching, boating, and fishing, residents are never bored. All this doesn't come without a cost, however. The average home is around $1 million. Additionally, the median household income is roughly $165,000, which helps to pay the pricey mortgage.