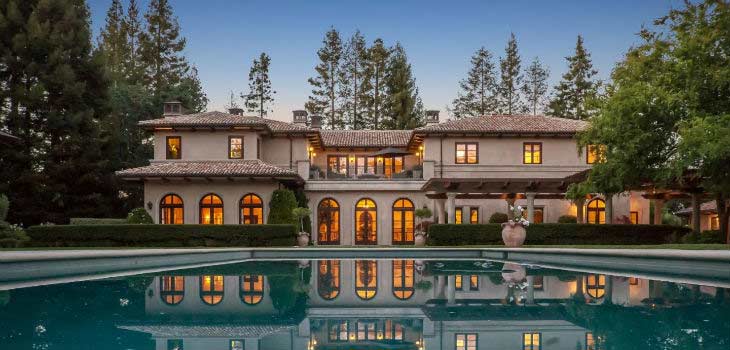 The high cost of living in California is no surprise to the average American, and for good reasons. Many people want to live there, but few make enough to live in the most desirable communities the Golden State has to offer. However, if you do find yourself listed among the ranks of the country's top percentile, you may want to consider California's 10 wealthiest neighborhoods as determined by the US Census Bureau's statistics on median income. From the tech-savvy Silicon Valley to the Hidden Hills of Southern California, you will love these fabulous neighborhoods.
1) Atherton
Atherton has a population at just under seven thousand people, with a household median income over $250,000 per year. In 2010, Atherton was listed by Forbes magazine as the second wealthiest zip code in the country. In subsequent years (2013 to present) it was listed in the coveted number one position. Atherton is a city filled with the wealth of new money techies, and mansions hidden away in hills and masked by massive trees. Homes in this part of California regularly sell at high-end prices in excess of $5 million, and commonly in the $10 million range. Despite the cost, these homes sell quickly, as it doesn't seem like the line to get into one of these palatial estates is growing shorter. Despite a number of exclusive communities available to Silicon Valley giants, Atherton remains the most sought-after location. Atherton is home to the likes of Google's Eric Schmidt, Facebook's Sheryl Sandberg, and of course, Charles Schwab. If prestige is what drives you, then living in the most affluent town in America isn't a bad place to be.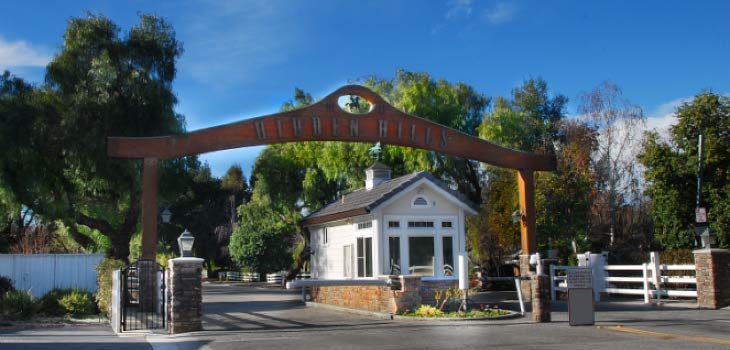 2) Hidden Hills
Hidden Hills is a gated community in Los Angeles with a population of nearly 2,400 residents and a median income of over $250,000. However, much like Atherton, incomes in this area are commonly upwards of millions of dollars a year. Located next to Calabasas and within San Fernando Valley, the small gated community is perhaps most known for its core population of actors and celebrities. The community has so many celebrities that it is surrounded by a large fence with multiple checkpoints preventing the likes of obsessed fans and the paparazzi from sneaking through. With neighbors such as the Kardashians, Drake, Jennifer Lopez, Miley Cyrus, and Justin Bieber, you can likely piece together what the demographic of the community is. Despite having some of the most media-buzzed celebs in the business, Hidden Hills is a popular destination for celebrities that prefer to be "normal" when their lives are anything but.
3) Norris Canyon
Norris Canyon Estates is a small gated neighborhood with a population just over 900. With a median household income of over $250,000, this is a quiet and laid-back community hidden in the foothills of West San Ramon. The community is so exclusively hidden that most people in the area don't even know Norris Canyon Estates exists. Designed as a high-end custom home designed community where you can live a relaxing lifestyle amidst the bustle of the nearby economy. The neighborhood is gated with a 24 hour, seven day a week staff, and offers tennis and basketball courts, community activities and a private playground. Home prices range from $2 million and up and offer the more affluent version of neighborhoods being built throughout the country. Norris Canyon is a quiet alternative to some of the more affluent areas on the list, without some of the pretense that comes with being some of America's wealthiest.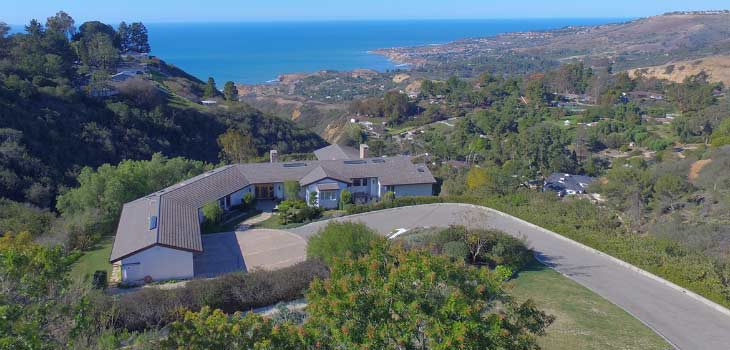 4) Rolling Hills
Rolling Hills has the distinction of being built by the same builders as Hidden Hills. With a large guard-gated entrance, private roads, and rural character, Rolling Hills feels as if it would easily fit within the palatial estates of the southern United States. The median home values rank among the top three in the country, and median incomes are in excess of $223,000 a year. Rolling Hills has some of the most stringent neighborhood requirements on this list. All homes are one-story ranch-style, and are required to have white exterior paint. In addition, all property owners are required to maintain horse property, or keep property available for horse stalls to be built. Along Rolling Hills' roads are wide berths for horse trails. Rolling Hills ranks among the top 20 most affluent communities in the country, and in the top 5 for communities with a population over one thousand.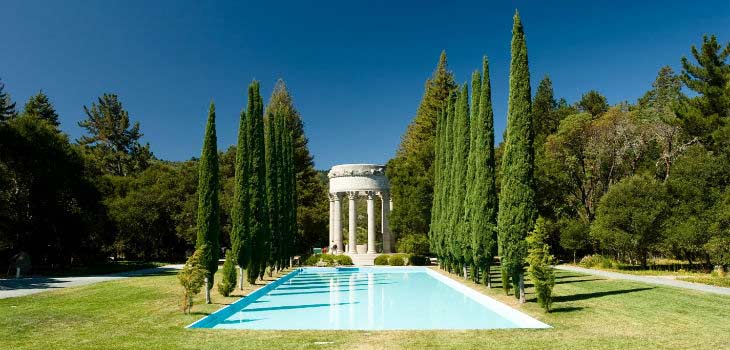 5) Woodside
Woodside is another popular equestrian community known among the Silicon Valley elite. It is also known among entrepreneurs as the hub for private venture capital investments. The population of Woodside is about 5,200, with median incomes near $250,000 a year. In addition to being one of the most affluent places in the country, Woodside offers many interesting aspects to the community that other communities don't. In addition to an equestrian lifestyle, Woodside is home to numerous cyclist events, and cycling routes that draw large numbers of local bikers every weekend. The area also offers great bio-diversity and several nature preserves for residents to quietly enjoy while jogging or walking. With only a couple of roads heading into the area, there are far more paths for hikers and horse riders to venture and explore. If you're wondering how wealthy Woodside actually is, take a look at some of the more well-known billionaires who reside here: Larry Ellison, Gordon Moore, Jeffrey Skoll, and John Doerr, among many, many others.
6) Hillsborough
Hillsborough has the largest population on the list with 10,500 residents. It is another Silicon Valley mecca for the wealthy and outranks San Mateo. Among one of the most affluent communities in America, it is the wealthiest town in America with a population over ten thousand. The town's zoning laws require that homes are at least 2,500 square feet and lots are no smaller than ½ an acre. As such, there are no condominiums, apartments, or townhouses. The only non-residential properties are schools, park, the golf and country club, and government buildings. The median income is near $240,000 a year, with home prices averaging over $3.5 million, the neighborhood offers large homes on estate-like property. Hillsborough has been able to maintain a quiet charm among its plush mansions, with award-winning schools and excellent local services such as their police and fire departments. Hillsborough's neighborhood feel sets it slightly apart from other affluent communities in the area.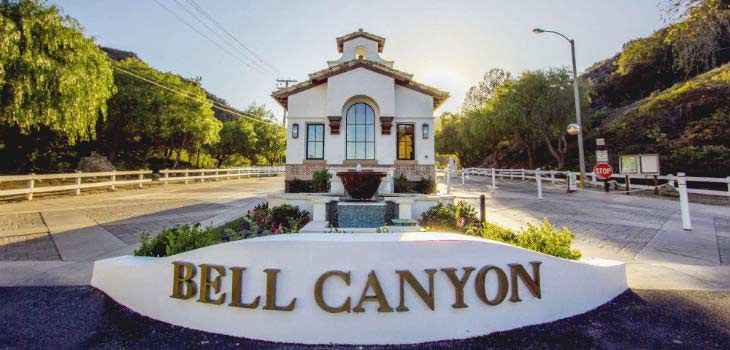 7) Bell Canyon
The Bell Canyon neighborhood has 2,300 residents with an annual median income of $230,000. Similar to many other neighborhoods on the list, Bell Canyon is a residential equestrian community. The community is a gated-guard access and is considered a highly affluent area of Ventura County, just outside Los Angeles. Bell Canyon is similar to nearby Hidden Hills, although with recent security upgrades such as state of the art security systems, including infrared area scanners and camera systems, outside motion detectors, as well as high-level security measures not publicly disclosed. Due to the high level of security, as well as large property sizes, homes, and community amenities, Bell Canyon is favored by celebrities (athletes, actors, and musicians) and high-profile motion picture studio executives. The highlight of Bell Canyon is the newly renovated Bell Canyon Equestrian Center. It is one of only a few full-service equestrian centers in the area. The center has the capability of housing up to 120 horses, has four barns, and 80 horse stalls.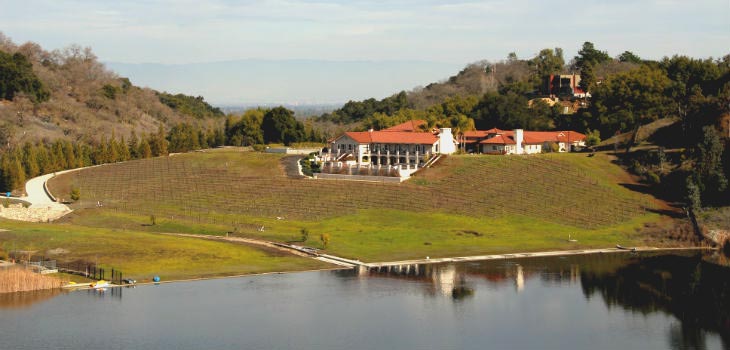 8) Los Altos Hills
With a population of 8,000 and annual median income of $230,000 a year, Los Altos Hills is a strictly residential community with no commercial property. In fact, Los Altos Hills has very strict requirements for its residents. Residents are limited to one primary dwelling per property, with minimum property sizes of one acre, easements for public pathways, and regulated setbacks from the property line. Los Altos Hills is for people who are wealthy enough to live anywhere. It's residents, such as baseball player Barry Bonds, tech business man Gordon Campbell, and Cisco CEO John Chambers, often live behind privately gated and guarded, lush properties set back from the street and hidden by rolling hills and tall trees. It would not be uncommon to see your neighbors adorned on the cover of a national magazine or being interviewed on syndicated news or talk shows. Despite the high-profiles of many neighbors, living in Los Altos Hills is a relatively quiet and charming life.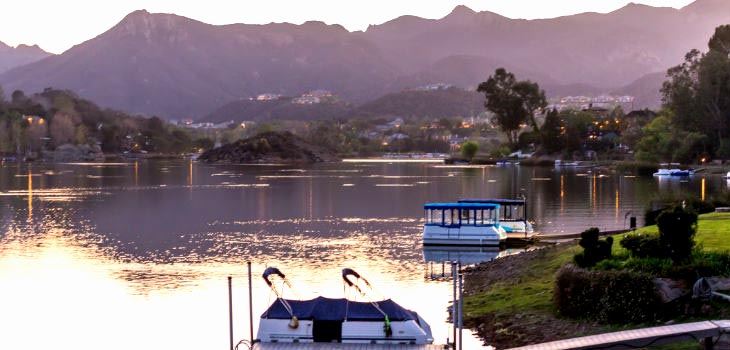 9) Lake Sherwood
Lake Sherwood's 1,500 residents enjoy a country club lifestyle. With gated communities within Lake Sherwood, as well as lake front views of Lake Sherwood, residents can hideaway in the Santa Monica Mountains of Ventura County. The median income of Lake Sherwood is $211,000 per year. If you have the money to move to Lake Sherwood, you could expect to see many familiar faces such as athletes, actors, musicians, and movie executives. Prior resident Wayne Gretsky sold his home to Lenny Dykstra. Musician Paul Anka owns several properties in the area, as does Tom Petty. Britney Spears and Pete Sampras both own homes with views overlooking the golf course, and Sylvester Stallone is a part-time resident. In addition to its famous residents, Lake Sherwood also boasts the location of several early feature films such as Robin Hood. And Bridesmaids was filmed at the Sherwood Country Club. Whether you want to relax in the mountains, or enjoy a posher country club lifestyle, Lake Sherwood is the place to do it. That is, if you can afford it.