Retirement planning involves saving and investing wisely during your heyday to build a nest egg that can support you when you stop working. It also involves researching retirement places to consider, as well as those to avoid. Many of these locations are great to visit, but you'll want to study the impact factors such as cost of living, housing and tax rates, which will have an impact on your ability to live comfortably or not. If you want to get the best value for your retirement money, here are nine U.S. states you should avoid upon retirement.

1) New York

Cheap is something you can never relate to the Big Apple. It may be a relatively safe state, but in the entire United States, the five boroughs and Long Island are among the most expensive places to live.

The tax rate and cost of living are also extremely high in New York. In fact, state and local income taxes in New York are the highest in the US while property taxes rank fourth highest in all 50 states. In 2014, cost of living in the Big Apple soared 120.4% above the national average. Moreover, health care and housing, which are two of the most important staples for seniors, are very expensive in New York. According to reports, a married couple aged 65 years old who retire in New York would be facing health care costs amounting to $413,597. This is 4.7% higher than the national average.

2) Washington, D.C.

While not a state, the US capital is a US location that must be mentioned when advising places to avoid if you want to stretch those retirement dollars. The nation's seat of power comes a close second to New York City when it comes to high cost of living.

They also have the second-highest median home value of $424,400 after Hawaii. The D.C. area, while having the highest average income for people 65 years and older, also has a high poverty rate among seniors at 14%. The Tax Foundation also reported that D.C. has one of the highest income tax rates in the United States at 8.9%. Even the sales tax is high at 5.75%. Moreover, estates valued at $1 million and above are subject to estate tax, which can go over 16%. Nevertheless, social security benefits and pensions, up to $3,000 of military, federal, and pensions, are exempted from taxes. Peace of mind is also something elusive in the state capital, as violent crimes occur at 3.5 times the national rate. Property crime rate is higher than average in D.C., too.

3) California

The high taxes in California has made "California dreaming" more of a nightmare. Even income of retirees is fully taxed, and apparently, the highest state income tax rates in the entire United States are imposed in the Golden State.

Currently, sales tax is at 7.5% and in Californian cities and counties where local levies are collected, sales tax can go as high as 10%. Aside from skyrocketing taxes, the high cost of living is high in California, too. In fact, they come a close third when it comes to highest cost of living behind New York and the District of Columbia. Even home values are high. The median home value is $368,600 in California, which is more than double the national median. Rental fees are also steep, so retirees who don't have their own homes would be facing the burden of high rent.

4) Oregon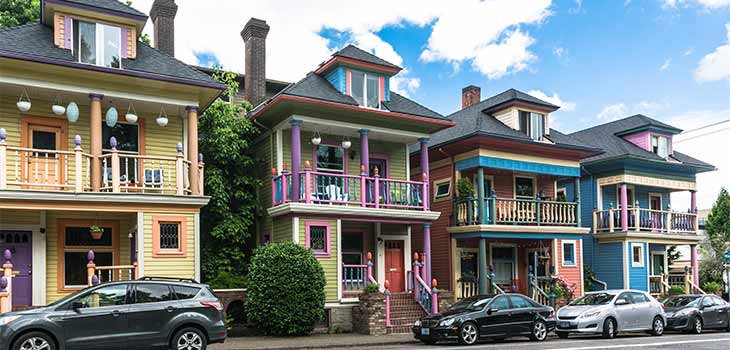 If you're the type who enjoy going to the beach, going for a hike, or a delicious mug of craft beer to cap the day off, then the Beaver State's where you should be settling in. Nevertheless, there are two downsides to retiring in Oregon – the high cost of living and high tax rate.

For retirees who would be living on fixed income, starting a life in Oregon may be difficult. For one thing, the Council for Community and Economic Research's 2014 report indicated that Portland apartments are charging more than double of the national average rental fee at $2,196 per month. Moreover, gasoline is 11.7% more than the national average. Even the consultation fee for doctors is 27.7% higher than average. In addition, while Oregon doesn't impose sales taxes, residents who earn more than $125,000 annually ($250,000 for married couples who file jointly), as well as retirement income, are burdened with 9.9% income tax.

5) Hawaii

The sound of overlapping waves and the cool breeze coming from the ocean may seem like the best way to spend your retirement days, but living such a dreamy life in the Aloha State may be more than you bargained for.

It has earned a reputation as a major tourist destination, which means it demands an extremely high cost of living. In all 50 states, Hawaii has the most expensive median home rent pegged at $2,975 a month. That is three times more expensive than the national average. Moreover, while social security benefits and most pensions are exempt from income taxes assessed by the state, Hawaii has a huge income tax range of 11%, which is the second highest among all states.

6) New Jersey

Although it's a relatively safe place to retire to, the Garden State is one of the worst states for retirees mainly because of its high living costs and taxes.

Apartments in Newark, a city in New Jersey, have average rental fees of $1,527 a month, which is 67% higher than the national average. The state's median home value is also exorbitant – it's nearly double than the value for the entire nation! That goes without saying that real estate taxes are sky-high, too. In fact, median property tax on a median home value of $307,700 is $7.331. Moreover, even though prescription and non-prescription drugs are exempt from sales tax, health care costs are 8% higher than average. In the same light, while social security benefits, military pensions, and other retirement income are exempt from state taxes, some retirement income are still taxable by a whopping 8.97%!

7) North Carolina

The mild winters in North Carolina would have been ideal for people 65 years and older who want nothing but to spend their retirement days in comfort.

However, the above average costs of living in the Tar Heel country don't quite break even with a typical household's income. The average income for all households in North Carolina is $64,490, which is 14% less than the average for the entire United States. Even worse, the income of older residents, specifically those 65 years or more, is 18.3% below average. Still, the state has a flat income tax rate of 5.75%, which they put in effect this year. Poverty is also a problem in North Carolina, with 10% of seniors living below the line. Whereas the 15.4% of the entire United States live below the poverty line, the rate for North Carolina is a staggering 17.5%!